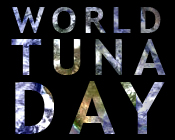 It's World Tuna Day! Let's all celebrate the existence of tuna in our daily lives and honor their continuation for many generations back and to come!
The World Tuna Day is a day to commemorate this fantastic wild species, which are super healthy, offer great taste, loads of proteins, and contribute to a healthy diet, helping to prevent heart disease. We hold the obligations to preserve each of the tuna species, to fully enjoy consuming this fish and to catch and process it in a sustainable way. This way, many generations after us will be able to benefit from one of the world's most popular seafood, hopefully forever.
May 2nd is a day of joy in the Pacific, we have been counting down the days for today to celebrate May 2nd, and honor one of our most valuable resource. Tuna species play a key role in our existence, ecosystem, economy and national income. Many activities are planned for today all over the PNA including various competitions and celebrations. I am sure the rest of the world is joining this great day!