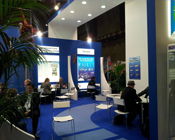 Pacifical was at the 4th European Tuna Conference, "the Economics of Tuna". PNG and PNA gave interesting speeches about regional trends for PNA processors supplying EU and the MSC certification. During the conference it was also announced the achievement of much awaited chain of custody certification.
We couldn't of course skip the world's largest seafood fair, taking place just one day after the conference: The European Seafood Exposition. This time we had our own Pacifical corner within the stand of the Papua New Guinea's National Fisheries Authority – PNG being by far the biggest player within PNA. Never before has PNG presented itself with such a fantastic stand, many customers complimented the design and the dynamics it vibrated as you can see on the photos.
Throughout all three days, our Pacifical team was continuously busy in business meetings with companies from all parts of the world interested in our MSC skipjack. We are always so glad to see how strong the global interest and support for sustainable tuna is and how fast this trend grows. But as you might understand we had to explain to many potential customers to be patient and to let us build a broad supply and production base first.
We would like to take this chance to thank all of you who visited us at the ESE. It was great to see you and be able to share the good news on the certifications with each of you. You were the first ones to know! Thank you very much for the interest and support, we will definitely keep in touch!