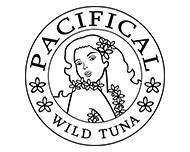 The last weeks have been positive for Pacifical! WE FINALLY GOT IT! Our PNA free-school skipjack fishery has been awarded the MSC Chain of Custody Certification! And on top of that, three of our PNA processing plants were also awarded with their own MSC CoC certification for their internal process, more is due in the next few weeks.
With already more than 20 vessel crews trained, over 140 particularly skilled MSC COC observers available and more training now being ramped up in all sectors, all conditions are there to start the catch, processing and supply to several supermarkets, leading food service and food processing companies. Hopefully by late June we will see the first MSC trips coming in, and see the fish being processed and providing the world with the first sustainably caught MSC skipjack from the pure and pristine waters of the PNA islands accompanied by the distinctive blue MSC logo and the Pacifical co-brand.
Now with all the needed certifications on board, we are ready to roll! The PNA factories are all set to receive and process MSC skipjack as soon as the fishing companies in the PNA waters have landed their first catches.