Pacifical serves and strengthens a worldwide network of fishing companies, traders, processors, retailers and food service companies' committed to catch, process and source from the PNA MSC certified tuna fishery. Become a partner today and begin enjoying the full benefits of the Pacifical network.
How To Become A Partner
In order to secure strong supply chains, there are specific collaborative set-ups at every step of the supply chain. In order to become our partner we have specified our collaborative set up in either a Memorandum of Understanding or a more basic terms of Service agreement. We have identified four main categories of Partners, with each of these categories a subdivision of specific activities. Of course we understand that reality is never simple, and that our partners may operate within more than 1, category.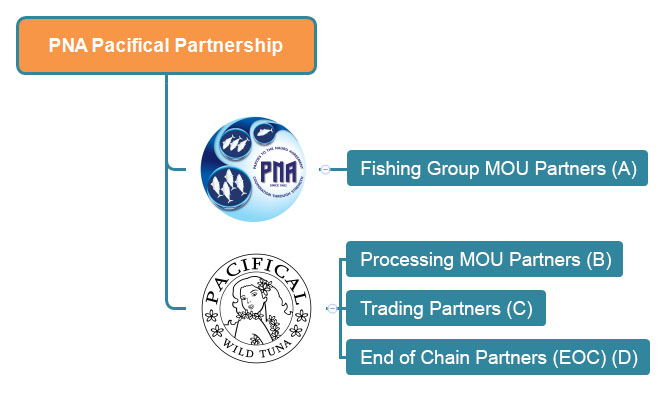 To get started, please use below questions to find out which steps apply to you.
---
Determine your partnership Type HERE:
We are catching, storing or delivering whole round tuna. (Category A)
Fishing Company/Group > Partnership Type A1
Fish Trading Company > Partnership Type A2
Service Provider Fishing Company > Partnership Type A3
E.g. Container Loading Company
We are processing tuna. (Category B)
Processor Semi-Finished Good > Partnership Type B1
Delivering Semi-Processed Product to a second or final processor (Loins, semi-processed whole round fish or whole round fish)
Processor Final Product > Partnership Type B2
Delivering fully-processed product for final buyer (Vacuumed packed tuna steaks, tuna in cans, pouch, glass jar, loins for further processing, tuna burgers, tuna meal, tuna oil etc
Processor for Exclusive Partner (C3) > Partnership Type B3
Delivering Fully-Processed Product (Vacuumed packed tuna steaks, tuna in cans, pouch, glass jar etc.) to a Pacifical MOU partner and / or a Subsidiary / Sales Office or exclusive trade office
Repacker of Final Product > Partnership Type B4
Relabeling an already packed product (tuna can, vacuumed pack tuna steaks, pouches etc.)
We are trading already processed product. (Category C)
Trader Raw Material / semi processed > Partnership Type C1
Distributor, Cold storage, Broker, Importer of raw material / loin trader.
Trader Final Product > Partnership Type C2
Distributor, Broker, Importer of labeled product for final sale.
Trader Final Product sourced from partner (B3) > Partnership Type C3
Company working with co-packer (s) or subsidiary / sales office / exclusive trade partner of a processor
We are selling final product directly to the consumer. (Category D)
Retailer/ Brand > Partnership Type D1
Retailer, brand owner, private label owner etc.
Food Processor > Partnership Type D2
Food Processor (producing from pouches or canned tuna -sandwiches, pizzas, salads etc.) or Loin buyer for Direct Catering Purposes (restaurants or hotels using MSC Pacifical loins to cook)
We belong to more than one Partnership Type mentioned above.
Please send us an email: Cynthia@Pacifical.com and indicate which of the above types apply to you, our team will be in touch within 1 business day to guide you on the enrollment process for your company.
---
Our Partners
Pacifical is not a direct supplying company but cooperates with many partners in the entire supply chain. Our program is built of multiple fishing companies, importers and traders, more than 30 processing partners and many retailers and food service companies.
To ensure transparency of our traceable MSC-certified free school Skipjack and Yellowfin tuna we share below the Pacifical partners who catch, trade and process our sustainable tuna caught in the PNA waters. You can always contact us.
Fishing Company Partners
Tuna Processor Partners
Distributor & Food Processor Partners