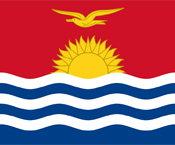 We are pleased to greet you today with very positive news: The European Union has now officially approved Kiribati as an EU competent authority!
The official decision has been published this week; please find the link to the EU Commission implementing decision here. (Current version: 14/12/2019)
This means that Pacifical is now able to offer MSC certified skipjack and yellowfin tuna to European partners from Kiribati flag fishing vessels and Kiribati processing facilities, allowing Pacifical's EU clients to buy sustainable MSC certified tuna at zero percent duty. This is something we have been longing to offer to the European market for quite sometime, as Kiribati has one of the most tuna-rich EEZs in the PNA region.
As you might know, The Republic of Kiribati was previously handed a yellow card warning on IUU from the EU, and has since then been cooperating closely with the European Union in order to implement procedures and regulations that battle and prevent many EU concerns over potential IUU fishing, transshipment checks and landings, as well as VDS transparency. We are very happy to see that progress being made by the country has been recognized by the EU.