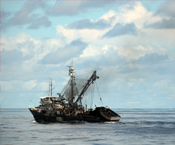 This week we have reached a milestone of 2,000 MSC Trip Numbers issued since we started the journey of bringing larger volumes of sustainably caught tuna to the world; a landmark for our MSC certified PNA free-school skipjack and yellowfin fishery. We are excited to share this breakthrough moment with you!
Since 2013, the PNA has maintained day by day one of the most complex and rigid chain of custodies out there; a strict multi-level filtered chain with zero tolerance on mixing eligible MSC free-school caught tuna with non-sustainable caught tuna. Any tuna vessel that wants to start an MSC trip in the PNA waters first needs to have its captain and crew trained in MSC procedures, which require the use of sustainable catching methods. Trained purse seiner crews can go on an MSC trip once they have applied to the PNA Office for an MSC Trip Number, and have been assigned an independent onboard observer, trained in MSC procedures. MSC Trip Numbers are issued for purse seine trips, as well as reefer carrier trips, vessels that transport the frozen tuna to the end destination.
These MSC Trip Numbers are required for the PNA to keep full control over the sustainable catching practices within its enormous zone. Our MSC certification covers a vast area, equivalent to a surface 40% larger than Europe and involving over 200 tuna purse seine vessels, 80 carriers, and 638 fully trained observers. This has now reached over 2,000 MSC trip numbers issued!!! It's certainly not an easy task, but the PNA has proven to be more than equipped to take on such a massive operation.
Today we are proud to say that there are over 250 million consumer units of MSC certified tuna co-branded with the Pacifical logo being distributed in 26 countries spread over 4 continents. The PNA Pacifical start-up initiative, through its great success, is now reaching its scale-up phase. This milestone of 2,000 MSC Trip Numbers issued is the result of the efforts and close cooperation of all members across the chain; observers, fishing vessels, carriers, processors, supermarkets, distributors and many others have been established. This has all been made possible by the hard work of the PNA Office and Pacifical teams, and the use of the latest innovative satellite and computer technology required to trace vessel activity and collect observer data in real time.