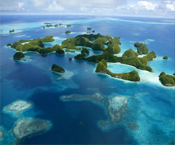 It is thanks to the hard working men and women watching over the PNA tuna resources that consumers in 26 different countries are now able to buy sustainable MSC Pacifical certified tuna. It is indeed our people who make the PNA MSC tuna certification and the Pacifical project possible. At Pacifical we aim to empower our people in the PNA to continue making the best use of their resources and caring about the future availability of tuna for generations to come. Let us share with you a few projects we are currently working on:
Training Palau Entrepreneurs on Micro-canning Skills
This is exciting news! Last month PNA and Pacifical undertook our 3rd workshop in improving Pacific island food security by training entrepreneurs in the creation of micro canneries.
You may be wondering what this is all about. Well, the micro-canneries are being set up with the purpose of processing bycatch fish landed by tuna purse seiners in the PNA region. As you can imagine, there is quite some bycatch product available from the hundreds of tuna seiners that transship in the PNA ports each year. The micro-canneries, which are very small and fully manually operated and can be installed in a room, making it possible for this bycatch to be locally unloaded and to be canned purely for local consumption, meeting the local need for high protein, healthy and nutritious seafood, that can be stored without the need of refrigeration.
The first workshop took place in the Marshall Islands back in October 2016, the second in the Solomon Islands in February 2017. We are glad to see that there are now several small-scale canneries in operation in the region!
We can't wait to see more local entrepreneurs take off!!! These PNA nationals are keen to complete the training and purchase machinery in order to start production as soon as possible. Total investment for a small business to get its hands on machinery and certification is no more than USD 2,000 and return on this investment can be made in the space of just weeks or months.
Internship opportunity for PNA Nationals in our Head Office
Our head office in Holland will soon be welcoming interns from the PNA. The end goal is to help young professionals from the region to learn and prepare themselves to overcome commercial challenges and make the best of the opportunities presented on a day to day basis within the tuna industry or local economy. This internship is intended to help dynamic PNA nationals acquire valuable hands-on knowledge, marketing and commercial business skills as well as the basic strategies required to successfully function in a commercial environment.
Likewise, the intern's insightful contribution will help develop, expand and maintain our Pacifical marketing channels and supply chains for PNA caught MSC certified free-school skipjack and yellowfin tuna in the market place.
The first intern is planned to be from the Republic of the Marshall Islands, after this initial intern the scheme would be expanded PNA wide, offering a continued series of 3 month internships for PNA students or professionals going forward, each time from a different nation.
We are excited to have our new Pacifical colleagues joining us soon!