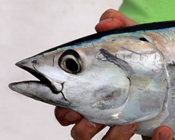 What we had been hoping for has finally happened: our PNA free school skipjack fishery has been MSC certified!
We just received the official MSC announcement yesterday, January 9th 2012, and wanted to wait for this official statement before sharing it with you. In fact the approval was already sent by the independent adjudicator, Ms. Melanie Carter, on December 13th 2011 after a long journey of objections by the ISSF and other tuna industry groups.
We want to thank you for all the support you've shown throughout this long process in 2011. Knowing all along that Pacifical could count on your constant interest gave us enough confidence throughout the development of the MSC certification to continue working for our purpose, we finally did it!
Within a couple of months the distinctive blue MSC logo, along with our Pacifical co-brand, will accompany our skipjack tuna cans indicating that this tuna comes from well-managed and sustainable fisheries.
From now on, MSC certified FAD free tuna caught in schools will be a sustainable alternative option to pole and line caught tuna; supplying the world with mature skipjack and reducing by-catch to the maximum level lead by our PNA nations, and doing away with bait-fish problems. Also our skipjack is caught by purse seiners, which allows us to serve a much larger group of consumers with sustainable tuna.
With MSC certification onboard, we set sail to start delivering sustainable tuna as well as giving our people the right of getting benefit from their own resources. "We live in this region, we live and breathe tuna and for many of our members, they have nothing else but tuna" said Dr. Transform Aqorau, director of PNA.
This journey has just started and after certification there is a lot of work to be done. PNA and Pacifical are now in the process of starting to get the fleets organized to fish based on MSC procedure and chain of custody (CoC). We are also getting appointments with several of our exclusive partners to confirm details in regard to specifications.
It is worth to mention that in the start-up period the amount of MSC tuna that Pacifical will have available is going to be limited. So we will be able to serve only a selected group of highly dedicated retailers, food service and food processing companies. With time the amount of free school skipjack available will rise as more fishing companies and vessel owners participate in our CoC.
Right now there are about 265 tuna vessels in total in PNA waters. Some of them are already actively working with Pacifical and enthusiastic with the idea of having separate wells for free school skipjack. We are expecting a lot more to join within this year!
Eventually we could be catching 500.000 metric tons of free school skipjack in the PNA, which would fill 1.4 billion 185g cans of tuna every year, enough to serve 4.2 billion meals, bringing extremely healthy high protein sustainable produced food to every corner of the world, at an affordable price and with least of environmental impact!
Other than beef, chicken or farmed fish, we are talking about a purely wild species that requires no farming, no antibiotics, no massive amounts of feeds and water, and therefore causes no water or land pollution.
As PNA, as guardians for our people and the world, all we need to do is to manage and catch it in a sustainable way –according to MSC principles- and this highly fecund and fast growing skipjack will be able to provide us healthy food for generations to come!
We look forward to having the first Pacifical MSC certified skipjack on the shelves in Europe at the start of summer this year!