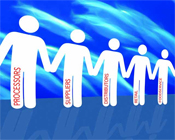 Chain of Custody (COC) basically means that there is a process or system in place assuring that, when skipjack tuna is caught, it is confirmed as really free school, all the criteria on the sustainable approved fishing method and area is met and that this tuna is kept totally separate from any unsustainable catch, from the moment it's caught till it reaches the final consumer.
For the MSC certification, the PNA has designed a rigorous process which establishes a consistent method along the Pacifical skipjack tuna supply chain to verify and supervise that the skipjack caught and used by Pacifical is sourced from MSC certified FAD-free tuna vessels participating under the PNA MSC free school skipjack scheme.
"We expect to have our COC certified by MSC April 2012" says Mr. Maurice Brownjohn, commercial manager of the PNA Office. Before the PNA can also get its COC certified by MSC, it will need to execute a massive training operation throughout a region which is 40% bigger than the European Union, and involves a large amount of tuna purse seiner vessels.
First of all, independent PNA on-board observers have to be trained to fully understand and be able to verify the MSC criteria and COC rules. At the same time captains and the crews of fishing companies have to be trained in the precise procedures and criteria for sustainable fishing. Carrier companies –which transport the tuna from the purse seiner to the final unloading port– will also be trained; as well as the staff of the receiving cold storage.
We hope that by April 2012 we get green light from certifiers that not only is our skipjack stock healthy, and our methods are sustainable, but also the way we distribute from boat to shelf is 100% reliable and fully traceable.