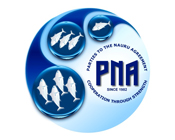 The Conformity Assessment Body (CAB) Acoura published its official response to IPNLF's objection to the PNA fishery recertification in early November, in which it concluded "that the [PNA] fishery should be recertified" for another 5 years. Despite the 126-page letter response, the objector IPNLF did not find that Acoura's response resolved their objection and decided to continue to exert their right as stakeholders to seek adjudication. As indicated, and in line with MSC procedures, when matters remain unsolved after an objection is submitted, an oral hearing and adjudication is to be agreed and this will happen early on January 2018.
While we will certainly keep you updated on this ongoing process, we wanted to take this time to let you know we have complete confidence and trust that the PNA free-school skipjack and yellowfin fishery will be recertified. We will continue to make our fully-sustainable MSC certified tuna available to consumers all over the world for many more years to come, as well as to maintain the platform for people of the Pacific to obtain a fair economic return for their most valuable natural resource.
As you may know, our current MSC certificate is valid until April 2018, so you can rest assured that our tuna will remain certified against the highest standards in seafood sustainability, also throughout this ongoing reassessment!