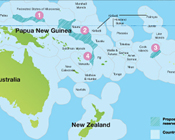 We promised to let you know this month about outcomes of the PNA ministerial meeting in Alotau, PNG. We, at Pacifical, trust that we will soon see real results of all these important decisions taken in terms of the sustainable management of our tuna resources.
Several important commitments were made by the Ministers; for Pacifical, these 3 were the most important ones:
Establishing a PNA Observer Agency – To better coordinate the 100% independent observer coverage aboard purse-seine fishing vessels in PNA waters and timely data processing.
Adopting the MSC Implementation Plan, including fast-tracking an agreement on Precautionary Reference Points and Harvest Control Rules for the PNA free-school skipjack purse-seine fishery, as required to maintain MSC Certification.
Approving work on developing a FAD registration and tracking scheme in collaboration, e-forms from live data and other ongoing innovations with the Pew Environment Group.
That is all the news we have for you this time. If you have any questions, ideas, suggestions or remarks never hesitate to contact us! You will also find plenty of more information on our www.pacifical.com website, you will especially appreciate the variety of videos we have on Sustainable Fishing, Social Responsibility and our Pacifical People!