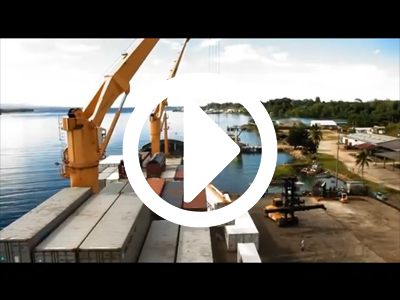 Today is May 2nd, World Tuna Day! The day to commemorate the existence of tuna and its contribution to our daily lives. A day to spread awareness of the importance and value of tuna, both to the Pacifical community and consumers worldwide. We wanted to hear directly from the PNA people how they experience tuna is contributing to their lives and communities!
Pacifical asked people in all 9 island nations via Facebook to submit a video clip showing in real time any recent finalized government-led project that had an impact on their community and explaining how their tuna resources are contributing to these developments. Three top performing videos were selected by the jury, resulting in the following winners:
Merry Christie Kere [1st Place]
Nationality: Solomon Islands
Award: $1,500 USD
Merry convincingly presents how a governmental-led and financed project related to a pacific fruit called "Noni" is being developed in her Guadalcanal province also benefits from tuna. The project aims to build local in-land agriculture and food production.
"Tuna production represents 10% of the Solomon Islands government revenue, therefore I can say that tuna has contributed indirectly towards the noni project in my community for being government funded" she explains. Congratulations to Merry!
Damida Alez [2nd Place]
Nationality: Solomon Islands
Award: $750 USD
Damida shares on a personal level how families from his community in Solomon Islands benefit from tuna daily for economic subsistence and food supply. The video shows his father leaving to go out fishing for tuna to pay for all necessities, including the education from his children.
"Tuna is my future, tuna is my life. Thank you tuna" is his message. Great Job Damida, you deserve this!
Sam Johnny Pedro [3rd Place]
Nationality: Tuvalu
Award: $500 USD
Sam's video starts with a key statement on impact: "Tuvalu's largest source of domestic revenue comes from tuna fisheries. It generates an estimated amount of $52 M USD to the 2021 budget" says Hon. Seve Paeniu, minister of Finance. The PNA "Vessel Day Scheme" alone contributes an estimated amount of $23 M USD. Part of this revenue is allocated to each island Kaupule for their various development needs."
He shows how government grants invest in education through a "Tuition Fee Scheme", the construction of a pre-school, and the Island Strategic Plan, Good job Sam!
Big thanks to everyone who participated. Sustainable tuna means everything to our Pacifical PNA People. For them sustainability is not a matter of choice, but of pure survival! Close to 17,000 of our people fully depend on tuna as a source of income. While in their community tuna income builds schools, hospitals, and roads and provides nutritious healthy food for the whole populus. Tuna is at the very core of our Pacifical nations' economic future.
HAPPY WORLD TUNA DAY!