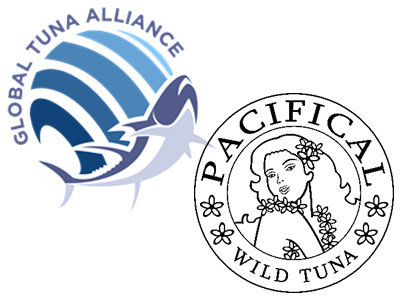 Pacifical today becomes the latest partner in the Global Tuna Alliance (GTA), an independent group of retailers and tuna supply chain companies, who are committed to realising the maintenance of healthy tuna stocks, avoidance of IUU products, improved traceability as well as environmental sustainability, and progressing work on human rights in tuna fisheries.
Pacifical c.v. is the global tuna market development company jointly set up by the 8 Parties to the Nauru Agreement (PNA) Western Pacific island countries[1] and Sustunable bv in 2011. Pacifical's goal is to promote the catch, production, distribution and marketing of the MSC certified sustainable free school skipjack and yellowfin tuna caught within PNA waters. Pacifical products are recognizable by the MSC eco-label and the Pacifical Geographical Indication.
Henk Brus, Chief Executive Officer, said: "Pacifical envisions maintaining a rich and healthy Pacific Ocean: An ocean that continues to be a source of well–being and livelihood for the PNA people, and our planet as a whole. We envision a future with constant supply of sustainable, nutritious, healthy, fully traceable, and affordable tuna proteins to the growing global population. Working with the GTA will help us achieve our shared goals"
Dr Tom Pickerell, Executive Director at the Global Tuna Alliance, said: "We are excited to welcome Pacifical to the Partnership. Together, PNA has about 25% of the world's tuna catch , 50% of skipjack harvest and PNA's free school skipjack and yellowfin purse seine fishery has been certified as being sustainable against the MSC standard since the 13th of December 2011. Pacifical will greatly strengthen the GTA's voice going forward."
[1] The 8 PNA countries that Pacifical represent are: Federated States of Micronesia, Kiribati, Marshall Islands, Nauru, Palau, Papua New Guinea, Solomon Islands, Tuvalu plus the participating territory of Tokelau.