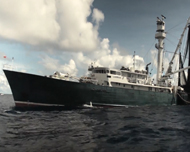 Just a quick note to inform you that vessels operating in cooperation with FCF have already started MSC trips within the PNA waters. In about 6 to 8 weeks, these managed seiners are expected to land certified tonnage meeting the Pacifical MSC qualified fish. We are extremely happy to see our partnership strengthening day by day at a very fast and effective pace.
The first FCF-associated fishing purse seiner to operate under the Marine Stewardship Council sustainability standards disembarked port Thursday January 22nd, with 2 additional vessels sailing days after. There are now three (3) fully trained seiners navigating the PNA Exclusive Economic Zone (EEZ) under the agreement between the companies with an additional, thirteen (13) boats under intense training before joining the MSC COC protocol and engaging in MSC qualified trips in the near future.
With more than 60 FCF-associated fishing vessels now preparing for MSC certification, this cooperation could eventually yield more than 200,000 metric tons of certified tuna, effectively meeting the needs of the consumer markets with a growing need for sustainable caught FADFREE fish.
Keep you posted on the development.