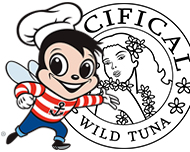 SAN DIEGO–(BUSINESS WIRE)–Bumble Bee Seafoods, North America's premium seafood company, has signed an agreement with Pacifical to purchase and promote MSC (Marine Stewardship Council) certified tuna coming from eight member countries of the Parties to the Nauru Agreement (PNA) in the Western Central Pacific Ocean. Those eight countries set up the Pacifical organization in 2011 to promote and actively trade sustainably caught skipjack and yellowfin tuna to consumers around the world.
"This partnership further demonstrates our commitment to sustainability, transparency and delivering high-quality, safe and nutritious seafood to consumers."
"The long-term sustainability of the world's oceans is critical to the long-term viability of our business," said Chris Lischewski, Bumble Bee president and CEO. "About 25% of the global catch of tuna comes from this region and we're proud to partner with Pacifical to raise additional awareness of their commitment to social accountability, food safety and traceability."
The island nations who established Pacifical include the Federal States of Micronesia, Kiribati, Marshall Islands, Nauru, Palau, Papua New Guinea, Solomon Islands and Tuvalu. The leaders of these countries wanted to combine resources and expertise to ensure sustainable fishing, create employment opportunities for their people and to ensure a fair economic return on their main natural resource, which is tuna.
"We bear the responsibility of ensuring the sustainability of our tuna stocks for the future of our people and our children and as an important food source for the world's population," said Maurice Brownjohn, PNA Commercial Director. "We look forward to working with Bumble Bee as well as restaurants and retailers around the world to increase the supply of MSC labelled sustainable tuna."
Mr. Brownjohn said the Marine Stewardship Council independent certification process is the most rigorous and robust offered globally. "The Pacifical nations wanted to meet that standard to assure people we are achieving the highest levels of sustainability possible when it comes to fishing in our waters." More information on the MSC process can be found at www.msc.org.
As part of the business agreement, Pacifical will provide Bumble Bee with 100% traceability to all MSC certified products. This will include tracing product to vessel name, captain name, fishing method and catching period.
"We know people want to purchase sustainable products and we also know they want to know where their food is coming from," said Lischewski. "This partnership further demonstrates our commitment to sustainability, transparency and delivering high-quality, safe and nutritious seafood to consumers."
About Bumble Bee Seafoods
Bumble Bee Foods, LLC, headquartered in San Diego, is North America's largest branded shelf-stable seafood company, offering a full line of canned and pouched tuna, salmon, sardine and specialty protein products marketed in the U.S. under leading brands including Bumble Bee®, Brunswick®, Snow's®, Wild Selections® and Beach Cliff®, and in Canada under the Clover Leaf® brand. The company also produces premium fresh frozen seafood under the Bumble Bee SuperFresh™ line. Bumble Bee SuperFresh™ seafood is cleaned, cut and fresh frozen within hours, then chef prepared with high-quality all natural ingredients.
Bumble Bee's mission is to provide healthy and nutritious products and meal solutions that are sourced sustainably. Bumble Bee is also a founding member of the Healthy Weight Commitment Foundation — a first-of-kind initiative in the U.S. involving a coalition of retailers, non-profit organizations and food and beverage manufacturers with a mission to help reduce obesity, particularly childhood obesity. The company actively promotes the responsible stewardship of global fisheries resources and is a founding member of the International Seafood Sustainability Foundation (ISSF) — a global partnership of scientists, tuna processors and WWF, the global conservation organization.