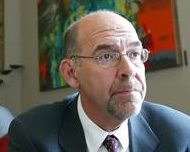 At the age of 69 years, Stuart. J. Beck, also named Palau's UN envoy for oceans and seas, has passed away after suffering with renal cancer. The PNA nation now says goodbye to the man that spearheaded its successful campaign to phase out commercial fishing in the country's waters.
Born in Bronxville, New York, Beck didn't just go on to become the UN ambassador for the remote Western Pacific island nation of Palau, after persuading the county to claim a seat in the General Assembly, but he also become an honorary citizen, after meeting his wife Tulik there in 1976.
With Beck as its voice, Palau then went on to become a strong ally of the US, and was termed the Pacific country's envoy for oceans and seas. He also led the nation's successful campaign to ban commercial shark fishing and bottom trawling, as well as export fishing, mining and drilling, in the majority of its 230,000 square mile EEZ.
The extent of these efforts are put into perspective when noting that thanks to Beck, a nation the size of Philadelphia took responsibility for the ocean environment across an ocean area the size of France. Beck not only leaves his wife behind, but also their three children and two grandchildren.
His first trip to Palau, the country which later became his home was for the purpose of studying the potential environmental impact that a proposed petroleum superport could have on coral reefs.
He was then enlisted to guide the island to sovereignty after a century of Spanish, German, Japanese and American jurisdiction, a challenge which he is said to have relished. The country gained its independence in 1995.