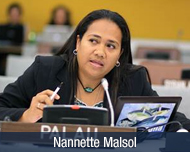 Nannette Dilly Malsol, one of the PNA's most influential leaders, has passed away, leaving members of the PNA community both in shock and mourning this week as they remember the critical role she played in the group's history.
Malsol, who held the position of Head of Palau's Fisheries, died on Thursday after a long battle with cancer, leaving both her family and the PNA now missing a vital member.
Originally from Palau, Malsol was an important figure in the setting up of the PNA office, providing both guidance and leadership during its formation, with much of the success of the PNA having been attributed to the support she gave to the organization.
"My passion is to ensure ocean resources are abundant for our future generations to enjoy," she said previously.
Malsol was also the first female Chair of the PNA, a position she held from 2012 to 2013 during a period of difficulty for the region, when PNA parties were struggling to reshape the Tuna Treaty with the US as well as get used to the process of the Vessel Day Scheme, which was fully implemented in 2010.
Holding both a degree in Political Science and Government from Guam University, and a masters degree in International Fisheries Policy from Wollongong University in Australia, Malsol was a highly educated and well-respected part of the PNA team.
"I always foresaw that Nanette Malsol would one day play a leading role in the PNA," said outgoing PNA CEO Transform Aqorau, "and indeed the region because of her leadership qualities. Her illness and loss have deprived us of a strong leader but also a wonderful friend."