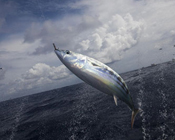 Sainsbury's is to solely use Marine Stewardship Council (MSC) certified skipjack tuna from the Maldives in its own label canned product from next year.
Already the UK's largest retailer of MSC-certified sustainable fish in the UK – selling more than 130 products carrying the logo – the supermarket says the move is a significant step forward in protecting the world's tuna stocks.
Skipjack is seen as a more sustainable species of tuna, when caught by pole and line, compared to yellowfin and bluefin species.
The skipjack tuna sourced from the Maldives will be introduced into stores from April next year, making up around 60% of the chain's own label skipjack tuna, and will sit alongside canned Albacore tuna which is already MSC-certified. Sainsbury's currently tops the Greenpeace league for responsible sourcing of tinned tuna.
Sainsbury's currently carries 18 different lines of own brand skipjack tuna, 12 of which are 100% sourced from the Maldives. Three further lines are jointly sourced from the Maldives and Indonesia.
Toby Middleton, MSC's UK country manager, said: "Tuna is in the cupboards of nearly every kitchen in the country. Getting MSC certified skipjack to the UK has been a long journey and it is great that Sainsbury's is maintaining its MSC market-leading position with this announcement."