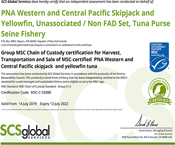 The MSC Chain of Custody (CoC) certification for the PNA Western and Central Pacific Skipjack and Yellowfin Unassociated / Non FAD set (Free School) Tuna Purse Seine Fishery, has been renewed until 13th July 2022.
"We are thrilled to continue offering our very robust MSC Chain of Custody, involving 227 partner purse seine vessels and over 103 carriers. It is the strong commitment of our partners that make it possible for the world to enjoy fully traceable and sustainable MSC Pacifical Tuna" said Mr. Maurice Brownjohn, PNA Commercial Director.
The PNA was initially awarded the MSC certification for the fishery in December 2011, and the development of a comprehensive and credible MSC CoC scheme immediately followed. The CoC certification was received July 2013. Yellowfin was included within the scope in 2016.
The PNA is recognized for having one of the most rigorous and complex CoC available among all MSC certified fisheries. It requires multiple filters for verification. The catch is only considered "MSC eligible" from catching set through the factory / cold store. The fish is not certified until weight, mass balance and species composition are known and full segregation throughout is documented independently to avoid any possibility of fraud.  There is also 100% third party monitoring of fishing trips, transshipment and factory discharges throughout.
"Our MSC CoC provides assurance that the MSC certified sustainable products carrying the Pacifical Geographical Indication, are 100% sustainably caught. This CoC certificate covers the traceability from capture, transportation and trade of our MSC free school skipjack and yellowfin tuna.'' Said Mr. Brownjohn.
The past 6 years are proof that the PNA countries have an outstanding ability to come together as Large Ocean States and let sustainability prevail. PNA manages successfully its MSC certification within a massive ocean surface that is 40% bigger than Europe. It is able to include hundreds of purse seine vessels with complex supply chains under its MSC COC umbrella, most of these vessels do not ship directly to the buyer, but instead transship at port to a carrier vessel before shipping. The PNA MSC COC is additionally complemented by full blockchain traceability to the final market.
The new certificate can be downloaded here.