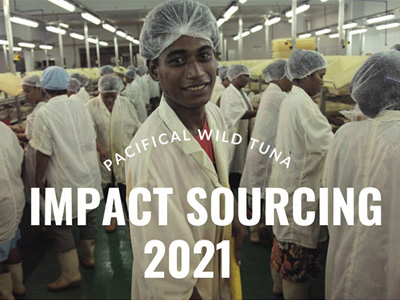 An estimated $14.5 Million USD is how much our partners have directly contributed to the people of the PNA Islands nations through sourcing Pacifical tuna products.
When sourcing and processing traceable Pacifical sustainable wild tuna, you can be 100% assured that your sourcing decisions are making a critical positive impact in the pacific island region; Not only from an ocean conservation perspective, but also towards the overall well-being of communities and families. Thanks to your involvement and tuna income received, many Pacifical nations are able to build schools, hospitals, roads, and fight the effects of climate change.
So, this message is to say THANK YOU! Because without your sustainable buying decisions we would not be able to reach our sustainability and social development goals. It is an honor and a privilege for our team to work with you to create maximum impact through purpose driven sustainable tuna sourcing.
2022 will come with exciting changes and we are looking forward to contacting you early next year to discuss those. In the meantime, we put together a nice infographic that captures some of our key metrics year to date. Please check it out.
Happy holidays from our Pacifical family to yours!