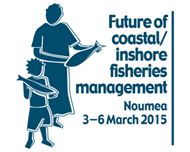 As of today, scientists, resource managers, researchers, fishermen and NGOs will be joining together for a three day long workshop on the future management of Pacific fisheries, at the SPC headquarters in Nouméa, New Caledonia; an effort to secure one of the most important food and income sources for Pacific island people. The outcomes of the meeting could also possibly affect high seas industrial tuna fishing.
The main focus of the Secretariat of the Pacific Community's (SPC) initiative? To establish the role of communities in coastal fisheries and resource management, and how community-based action can help towards addressing food security and the livelihoods of Pacific people.
The workshop forum, titled 'the Future of coastal/inshore fisheries management', is set to run until Thursday; 24 member nations will be there, and the discussions will center on the communal management of over 30 million square kilometers of ocean resource; a resource which provides around 50 percent of the income of coastal families, and makes up 50 to 60 percent of their dietary protein intake. In this region, per capita consumption of tuna and other fish reaches three to five times higher than the global average.
As one of the largest Pacific meetings set for 2015, the forum will also discuss: stock assessments; the need for standardized data collection for coastal fisheries and aquaculture; SPC scientific research on tuna and other species; the potential of deep-water snapper; a long-term strategy for training fisheries observers; and EU support for Pacific fisheries.
For the industrial tuna fishing fleets the outcome of this science-based meeting will be of great importance too, since they have often been identified by NGOs and local communities as being responsible for declining coastal tuna catches.
The SPC's Fisheries Director, Moses Amos, says: "With coastal fisheries, the results of good management, or lack of it, have long-term impacts at the national level, while for highly migratory oceanic fisheries resources like tuna, fisheries management in one country's waters has impacts that can be felt within the region and beyond."