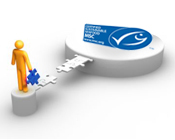 Let us share with you what has recently happened on our MSC certification process for free school skipjack fisheries.
After the load of objections received from the tuna industry organizations OPAGAG (Spain) – Eurothon (Europe) and ISSF (Global), we were happy to receive a series of positive submissions from the WCPFC (Western Central Pacific Tuna Commission), the Forum Fisheries Agency (FFA), the esteemed Secretariat of the Pacific Community (SPC) tuna scientist John Hampton, and the Parties to the Nauru Agreement (PNA) itself. Correcting the mis-informations in the objections.
Despite most objections being countered with scientific evidence, and technical responses those trying to stop the certification were not convinced, theyrefused to discuss a settlement and have now insisted on a hearing by the adjudicator. ISSF funding the USD 5,000 fee on behalf of themselves and the EU industry. Such a hearing is basicall! y an arbitration led by the MSC Independent adjudicator Michael Lodge. After listening to all the parties involved and reviewing all pros and cons he will have to give the final verdict. The latest news is that this hearing will take place late October.
Within Pacifical, and also the PNA, we are confident of the positive outcome of this hearing, which should be known by mid November. If the verdict is that the objections cannot be upheld, then the MSC certification of our FAD free skipjack fisheries will become a fact.
We are also most grateful for all the positive feedback from the NGO community and are fortunate to report that neither WWF, Greenpeace Oceana PEW, FOS or EII have given any fundamental criticism against the MSC assessment procedure of the PNA free school skipjack. Rather, several have publically supported the FAD free / by-catch free initiative.