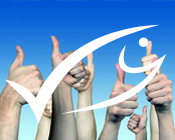 The demand for FAD free caught skipjack and yellowfin tuna is growing every day. Through daily email requests from tuna brands, and retailers from many of the major canned tuna markets around the world we see that people are becoming aware of the advantages of buying sustainable caught and certified Free School Skipjack tuna. Most of them want to have it rather today than tomorrow.
Pacifical has already been meeting with many major tuna buyers in about 15 countries spread over 3 different market segments : retail, food service and food processing to explain our policy and to build close partnerships.
The reaction from the market has been incredibly positive and it is clear that many companies are ready to build close partnerships, and to start buying only skipjack tuna that is caught in a social responsible and environmentally sustainable way, and most importantly has full traceability from boat to throat , and carries the MSC logo of certification to prove that.
One of the conditions of Pacifical for engaging in a partnership to market our canned tuna is that we want each can to carry the Pacifical logo, this to clearly to promote the pristine area this tuna comes from, and to create a bond between the consumer and the people of the Pacific.
As it looks now the demand for MSC certified canned tuna far outstrips initial projected supply. So once we have the MSC logo, Pacifical will only start market introduction with an exclusive dedicated partner in each segment in each country.