Vad är Pacifical?
Pacifical är ett globalt marknadsföringsbolag inom tonfisk som startades gemensamt 2011 av 8 PNA länder i Stilla Havet, för att marknadsföra och sälja PNA och deras MSC-certifierade och hållbart fiskad stim (free swimming school) Bonit och Gulfenad tonfisk.
Pacifical MSC-certifierad Bonit och gulfenad tonfisk från PNA-vatten är tillgänglig i 12 olika länder runt om i världen och alla produkter med Pacifical tonfisk har även deras logotype som en tydlig signal på slutmarknadens engagemang med PNA-regionen och erkännande till de små öarna i Stilla Havet, som dagligen hanterar tonfiskbeståndet.
Pacificals logotype tjänar som en geografisk indikator som ger erkännande till PNA-regionen. Den talar om för konsumenterna källa och ursprung av den högkvalitativa tonfisk som har blivit fiskad i PNA.vatten och att den är en 100% spårbar MSC-certifierad produkt. Logotypen symboliserar också det stöd och bidrag av slutliga köpare till utvecklingen av PNAs ekonomi och omfattande insatser av PNAs befolkning för att bevara tonfiskbeståndet framtida generationer.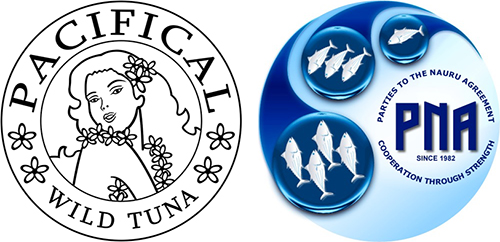 Vad är PNA?
PNA står för "Parties to the Nauru Agreement" och är sammansatt av 8 länder I västra och centrala Stilla Havet: Mikronesien, Kiribati, Marshallöarna, Nauru, Palau, Papua nya Guniea, Solomonöarna och Tuvalu. Dessa nationer har under de senaste 20 åren haft nära samarbete med förvaltning och bevarande av deras tonfiskbestånd.
PNA-länderna har tillsammans i sina vatten 25% av världens totala tonfiskbestånd. 2011 blev PNA Bonit tonfisk fångad i free school certifierad av Marine Stewardship Council (MSC) som hållbart, utvecklat världens största hållbara tonfiskfiske med ringrot (snörpvad). Februari 2016 fick även PNA certifikat för gulfenad tonfisk fiskad utan FADs (Fish Aggregating Device). 2016 fick PNA Seafood Champion Award för "Vision 2016" under Global Seafood Summit. Tillsammans utgör detta MSC-certifierade fiske nästan 90% av den potentiella fångade MSC Bonit och Gulfenad Tonfisk i hela världen.
Våra kärnvärderingar
Hållbarhet
Pacifical erbjuder hållbara produkter från bara två olika arter av tonfisk: MSC certifierad hållbart fiskad free school Bonit och Gulfenad tonfisk.
Vilken fiskemetod använder sig Pacifical av?
Pacifical använder sig av Ringnot, genom att lägga nät runt ett stim simmande Bonit och Gulfenad tonfisk (free swimming school).
Dessa stora fiskefartyg omringar gruppen av vuxna tonfiskar med ett stort nät, och sen stängs nätet underifrån så det blir en så kallad påse (därav det engelska namnet Purse). Sen görs påsen mindre och mindre, varefter man håvar ombord fisken på fartyget och fryser ner den inom några minuter, för att på så sätt bevara den höga kvaliteten.
Hur är statusen för Bonit och Gulfenad tonfisk I västra centrala Stilla Havet?
Tonfiskbeståndet av Bonit och Gulfenad tonfisk i västra centrala Stilla Havet är stabilt, inte överutnyttjat och i ett hälsosamt bestånd. Inget överfiske sker och Bonit och Gulfenad tonfisk är inte listade som hotade arter.
Varför behöver vi köpa "Hållbar MSC-certifierad Bonit" om beståndet inte är överfiskat?
Behovet av MSC-certifikatet för fiske av Bonit och Gulfenad är inte i första hand relaterat till mängden fångst, utan till oron över bifångster av icke-målarter som också fångas när näten sätts på "anordningar som lockar till fisk" (FADs).
FADs är ett konstgjort flytande föremål som placeras ut i havet för att locka till sig i första hand tonfisk men lockar även till sig andra arter som sköldpaddor, hajar och även många icke-fullvuxna tonfiskar.
Det små Bonit som blir fångad genom FADs är mestadels vuxna och väger runt 1.8-2.0 kg, men Gulfenad och Storögd tonfisk (bigeye) fångad genom FADs är också oftast i samma storlek som Bonit. Detta är det största problemet med att använda FADs. Den Gulfenade och den Storögda blir vuxna när de väger runt 18 kg eller mer, så när man fiskar dem runt 2.0 kg eller mindre kommer de inte att kunna fortplanta sig. Cirka 20-25% av fångsten är dessa unga tonfiskar när man använder FADs och detta hotar framtiden för dessa två större tonfiskarter samt även flera hajarter.
Vi har lösningarna!
Pacificals MSC-certifierade fiskemetod använder bara nät på fullvuxna tonfiskar, och man får inte fiska inom 1 sjömil från någon FAD. Denna metod bidrar även till minskad bifångst.
Pacifical använder sig av denna typen av fiskemetod (d v s ingen användning av FADs) som förebygger problem med bifångst och som främst fångar fullvuxen Bonit och Gulfenad tonfisk. Detta beror huvudsakligen på att stim av tonfisk från samma art och samma storlek simmar tillsammans. Mycket få icke-fullvuxna tonfiskar fångas i stim och nästan inga icke-fullvuxna Storögda och Gulfenade tonfiskar.
Socialt Ansvarstagande
För majoriteten av våra PNA.länder är tonfisk den viktigaste och ofta den enda stora inkomstkällan. Till helt nyligen fick dock dessa länder bara en liten del av de ekonomiska fördelarna.
Av de nuvarande 1,1 miljoner ton tonfisk fångad i deras hav, är nästan 85% fångad av fartyg från annan nation, som tex USA, Japan, Taiwan, Sydkorea, Filippinerna, Kina och Spanien, mycket få kom från vår PNA-region.
Vi vill att fler av vår lokalbefolkning börjar jobba i besättningen på dessa utländska fartyg och bli utbildade och erfarna så att de så småningom kan styra och navigera ett fiskefartyg.
Vi vill skapa fler jobb och inkomst för vår befolkning, genom att utöka vår egen tonfiskberedningsindustri och upprätta direktförbindelse med återförsäljare och slutkonsumenter.
PNAs tonfiskanläggningar anställer lokalbefolkningen och jobbar under förhållanden som förväntas att snart uppfylla BSCI Sociala Uppförandekod eller standarden SA 8000. Tonfiskkonservanläggningar kan ge arbete och inkomster till tusentals familjer.
Fiskeverksamhet
Pacifical har etablerat socialt ansvarstagande riktlinjer för alla fartyg som är involverade i dess MSC-certifierad hållbar fiskad tonfisk. De nya riktlinjerna är unika eftersom de omfattar över 300 industriella fiske- och transportfartyg från mer än 10 olika nationer, som arbetar i en av världens mest komplexa och omfattande försörjningskedjor för fisk och skaldjur. Syftet bakom detta initiativ är att trygga välfärden för över 5000 besättningsmedlemmar som bor ombord på fartygen och fiskar och arbetar i dessa nationers avlägsna vatten.
Att arbeta ombord på ett ringnotsfartyg är mycket annorlunda än att vara anställd inom andra sektorer. Även på de nyaste och mest tekniskt avancerade fartygen är arbetet fysiskt krävande och inte undantagna risker och resorna tar ofta upp till 2 månader.
Den mulit-rättsliga natur som fiske innebär samt att besättningen ofta består av en mix av olika nationaliteter ger ytterligare komplexitet till den redan svåra uppgiften att socialt ansvarsfulla anställningsförhållanden följs. Pacifical har därför utvecklat Riktlinjer för Socialt Ansvarstagande för att skydda rättigheterna för fiskarna och se till att de har en anständig, säker och meningsfull sysselsättning ombord på fiskefartygen.
Spårbarhet
Spårbarhet och transparens är oerhört viktiga för Pacifical. Vi kan erbjuda 100% spårbarhet från havet till hyllan till alla våra kunder.
Så här fungerar det i praktiken: Ett MSC trip-nummer och en MSC-utbildad observatör tilldelas av PNA-kontoret till ett fiskefartyg, observatören är ombord och uppdaterar fångstuppgifterna flera gånger per dag via satellit med hjälp av en läsplatta, som förser PNAs datorsystem "FIMS" med data om art, kvantitet, plats, mängden av fångst och bifångst och andra fångstrelaterade uppgifter. FIMS datasystem är direkt kopplad till vår Pacifical IT-plattform.
Processorn ansluter produktionens batch-nummer med MSC trip-nummer, under vilken fisken fångades och med att bara ange koden eller skanna en QR-kod, kan distributörer och konsumenter runt om i världen kontrollera med vilken metod deras tonfisk fångades, var och när den fångades, av vilket fartyg och när och var den bearbetades.
Produkter
Fryst hel Bonit – Rå vara
Fryst hel Gulfenad – Rå vara
Fryst Bonit & Gulfenad gälar – rensade – utan huvud
Fryst rå Bonit & Gulfenad filéer
Fryst rå Bonit & Gulfenad biff
Fryst med ultralåg temperatur Bonit & Gulfenad
Fryst färdiglagad Bonit & Gulfenad filéer
Bonit & Gulfenad – konserverad
Bonit & Gulfenad – i påse
Bonit & Gulfenad – i glasburk
Bonit & Gulfenad – Fiskfoder
Kontakta
PACIFICAL cv
Meerpaal 6
4904 SK Oosterhout
The Netherlands
Email: info@pacifical.com
Telefoon: +31 (0) 162 76 90 27
Fax: +31 (0) 162 43 05 25