Hva er Pacifical?
Pacifical er et globalt markedsføringsselskap for tunfisk som ble startet i 2011 i fellesskap av de 8 PNA landene i stillehavet. Hensikten er å promotere PNA og selge deres MSC sertifiserte og bærekraftige, fisket i stim (free swimming school) tunfisk, av artene skipjack og yellowfin (gulfinne).
Pacifical MSC-sertifisert skipjack og yellowfin tunfisk fra PNA's farvann er tilgjengelig i 26 forskjellige land i verden. Alle produkter med Pacifical tunfisk bærer Pacifical logoen som et tydelig signal på selskapets engasjement i PNA regionen, og erkjennelsen av de små øyene i stillehavet, som til daglig håndterer tunfiskbestanden.
Pacificals logo fungerer som en geografisk indikator som gir erkjennelse til PNA-regionen. Den informerer forbrukere om kilden og opprinnelsen til høykvalitets-tunfisken som har blitt fisket i PNA farvann, og at det er et 100% sporbart MSC-sertifisert produkt. Logoen symboliserer også støtten og bidraget fra forbrukerne til utviklingen av PNAs økonomi og den omfattende innsatsen som PNAs befolkning gjør for å bevare tunfiskbestanden for verdens fremtidige generasjoner.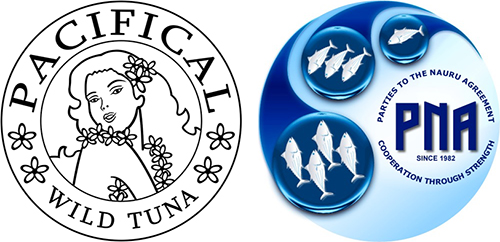 Hva er PNA?
PNA står for "Parties to the Nauru Agreement" og er sammensatt av 8 land i det vestre og sentrale stillehav: Mikronesia, Kiribati, Marshalløyene, Nauru, Palau, Papua Ny-Guinea, Salomonøyene og Tuvalu. Disse nasjonene har i de siste 20 årene hatt tett samarbeid når det gjelder forvaltning og bevaring av sin tunfiskbestand.
PNA-landene har tilsammen 25% av verdens totale tunfiskbestand i sitt farvann. I 2011 ble PNA skipjack, fanget i stim, sertifisert av Marine Stewardship Council (MSC) som bærekraftig, og skapte dermed verdens største bærekraftige ringnot fiske for tunfisk.
I februar 2016 fikk PNA også sertifikat for yellowfin tunfisk, fisket uten FADs (Fish Aggregating Device).
Samme år mottok PNA "Seafood Champion Award" for "Vision 2016" under Global Seafood Summit. Tilsammen utgjør dette MSC-sertifiserte fisket nesten 90% av den potensielle fangsten av MSC skipjack og yellowfin i hele verden.
Våre Kjerneverdier
Bærekraft
Pacifical tilbyr bærekraftige produkter laget av kun to ulike tunfiskarter: MSC sertifisert bærekraftig fisket, free school, skipjack og yellowfin.
Hvilken fiskemetode benytter Pacifical seg av?
Pacifical benytter ringnot gjennom å legge nett rundt en stim av svømmende skipjack og yellowfin (free swimming school).
De store fiskefartøyene omringer gruppen av voksne tunfisk med et stort nett, og lukker så nettet nedenifra så det blir en "pose" (derav det engelske navnet purse seiner). Siden gjøres posen mindre og mindre, og man heiser noten ombord i fartøyet. Fisken blir dypfryst i løpet av noen minutter for å å bevare den høye kvaliteten.
Hva er bestandnivået av Skipjack og Yellowfin Tunfisk i det Vestlige og Sentrale Stillehavet?
Tunfiskbestanden av skipjack og yellowfin tunfisk i det vestilge og sentrale stillehavet er stabil. Tilstanden til bestanden er sunn og den er ikke overbeskattet. Overfiske av artene forekommer ikke og de er ikke listet som truede arter.
Hvorfor skal vi kjøpe "Bærekraftig MSC Sertifisert Skipjack" om bestanden ikke er overfisket?
Behovet for MSC-sertifikat for fiske av skipjack og yellowfin er ikke først og fremst relatert til fangstmengden, men heller til bekymringen over bifangst av ikke-målarter som også fanges når nett settes på "Fish Aggregating Devices" (FADs).
FADs er menneskeskapte flytende objekter som plasseres i havet for først og fremst å lokke til seg tunfisk, men de lokker også til seg andre arter som skilpadder, haier og mange umodne ikke-fullvokste tunfisk.
De små skipjack tunfiskene som blir fanget på FADs er hovedsakelig voksne og veier rundt 1.8-2.0 kg, men yellowfin og bigeye (storøyd tunfisk) fanget på FADs, er også ofte i samme størrelse som skipjack. Dette er det største problemet med å bruke FADs. Yellowfin og bigeye blir voksne når de veier rundt 18kg eller mer. Hvis man fisker disse artene når de er rundt 2.0 kg eller mindre, kommer de ikke til å formere seg. De unge tunfiskene utgjør ca. 20-25% av fangsten når man bruker FADs, og dette truer fremtiden for disse to store tunfiskartene, samt flere haiarter.
Vi har løsningene!
Pacificials MSC-sertifiserte fiskemetode anvender kun nett på fullvoksne tunfisk, og man fisker ikke nærmere enn 1 nautisk mil fra noen FAD. Denne metoden bidrar også til minsket bifangst.
Dette er fordi stimer av tunfisk først og fremst består av fisk fra samme art og størrelse. De har også de samme jaktegenskaper og holder den samme hastigheten. Veldig få baby-tunfisk er fanget i stimer, og nesten ingen er umodne bigeye eller yellowfin.
Sosialt Ansvar
Tunfisk er den viktigste og ofte den eneste store inntektskilden for majoriteten av PNA land. Inntil nylig har bare en liten del av de økonomiske godene fra tunfisk gått tilbake til disse landene.
Av de nåværende 1.1 millioner tonn med tunfisk som blir fanget i deres farvann, er nesten 85% fanget av fartøy fra andre land som USA, Japan, Taiwan, Sør-Korea, Filipinene, Kina og Spania. Veldig få kommer fra PNA-regionen.
Vi vil at en større del av vår lokalbefolkning begynner å jobbe som mannskap på de utenlandske båtene, slik at de får utdannelse og erfaring til å kunne navigere et fiskefartøy.
Vi vil skape flere arbeidsplasser og høyere inntekt for vår befolkning gjennom å utvide vår egen tunfisk-foredlingsindustri og etablere direkte relasjoner med forhandlere og forbrukere av sluttproduktet.
Arbeidsforholdene for de lokalt ansatte ved PNAs tunfisksanlegg vil i løpet av kort tid tilfredsstille kravene til BSCI Social Code of Conduct eller SA 8000 standard. Konservasjonsanlegg for tunfisk kan gi arbeid og inntekt til tusenvis av familier.
Fiskevirksomhet
Pacifical har etablert Retningslinjer for Sosial Ansvarlighetfor alle fartøy som er involvert i det MSC-sertifiserte bærekraftige fisket etter tunfisk. De nye rettningslinjene er unike ettersom de omfatter over 300 industrielle fiske- og transportfartøy fra over 10 forskjellige nasjoner, som opererer i en av verdens mest komplekse og omfattende forsyningskjeder for fisk og skalldyr.
Formålet bak dette initiativet er å ivareta velferden til de over 5,000 som jobber som mannskap på fartøyene som fisker og distribuerer tunfisk i de fjerntliggende farvannene til PNAs stillehavsnasjoner.
Arbeidet ombord i et ringnotfartøy er veldig forskjellig fra andre sektorer. Til og med på de nyeste og mest teknisk avanserte ringnotfartøyene, er arbeidet fysisk krevende og heller ikke uten risiko. Et tokt kan ofte vare i opp til 2 måneder.
Siden fisket foregår i regioner med ulik lovgivning samt at besetningen ofte består av en miks av nasjonaliteter blir den allerede utfordrende oppgaven med å sikre en sosialt ansvarlig arbeidsstandard enda mer komplisert. Pacifical har derfor utviklet disse Retningslinjene for Sosial Ansvarlighet for å beskytte rettighetene til fiskere og sørge for at de har en skikkelig, trygg og meningsfylt arbeidsplass ombord på fiskefartøyet.
Sporbarhet
Sporbarhet og åpenhet er ekstremt viktig for Pacifical. Vi kan tilby 100% sporbarhet fra hav til tallerken for alle våre kunder.
Slik fungerer det i praksis: Ett MSC turnummer og en MSC trenet observatør blir tildelt fiskefartøyet fra PNA kontoret. Observatøren er ombord og oppdaterer fangstdataen flere ganger daglig. Oppdateringene sendes via satelitt fra en tablet-PC til PNAs datasystem "FIMS" og inneholder data om art, kvantitet, lokasjon, mengde fangst og bifangst, og andre fangstrelaterte opplysninger. FIMS datasystemet er direkte knyttet til vår Pacifical IT plattform.
Denne prosessen forbinder produksjonens batch-nummer med MSC turnummeret som fisken ble fanget under. Ved å taste inn eller scanne en QR kode, kan distributører og forbrukere verden rundt kontrollere hvilken metode tunfisken deres ble fanget med, hvor og når den ble fanget, hvilket fartøy den ble fanget fra, og når og hvor den ble bearbeidet.
Produkter
Fryst Hel Skipjack – Råmateriale
Fryst Hel Yellowfin – Råmateriale
Fryst Skipjack & Yellowfin Renset – Sløyd – Uten Hode
Fryst Rå Skipjack & Yellowfin Fileeter
Fryst Rå Skipjack & Yellowfin Biff
Fryst Med Ultralav Temperatur Skipjack & Yellowfin
Fryst Ferdiglaget Skipjack & Yellowfin Fileeter
Skipjack & Yellowfin – Konservert
Skipjack & Yellowfin – i Pose
Skipjack & Yellowfin – i Glasskrukke
Skipjack & Yellowfin – Fiskefôr
Kontakt
PACIFICAL cv
Meerpaal 6
4904 SK Oosterhout
The Netherlands
Email: info@pacifical.com
Telefoon: +31 (0) 162 76 90 27
Fax: +31 (0) 162 43 05 25