Wat is Pacifical?
Pacifical is een wereldwijd tonijn marketing bedrijf, opgezet in 2011 door de 8 PNA-landen in de Stille Oceaan, om de PNA te promoten en actief in hun MSC gecertificeerde duurzaam gevangen vrije school skipjack ( gestreepte tonijn ) en geelvintonijn te handelen.
Pacifical MSC gecertificeerde skipjack en geelvintonijn uit de PNA-wateren is verkrijgbaar in 26 verschillende landen. Alle producten met Pacifical vis dragen het Pacifical logo als een duidelijke representatie van de toewijding van de eindmarkt aan de PNA-regio en ter erkenning van deze eiland staten, die dagelijks de tonijn in hun wateren beheren.
Het Pacifical logo dient als een geografische indicator ter erkenning van de PNA-regio, vertelt de consument de oorsprong van de hoge kwaliteit tonijn, die is gevangen in de ongerepte wateren van de PNA eiland staten , en geeft aan dat het een 100% traceerbaar MSC gecertificeerd product is. Het logo representeert ook de steun en de bijdrage van de uiteindelijke kopers aan de ontwikkeling van de PNA-economieën en de uitgebreide inspanningen van de PNA-inwoners om hun tonijn te beschermen voor toekomstige generaties.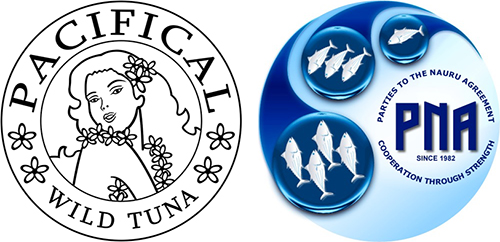 Wat is de PNA?
PNA staat voor "Parties to the Nauru Agreement" en bestaat uit 8 landen in het westen en midden van de Grote Oceaan: de Federale Staten van Micronesia, Kiribati, de Marshalleilanden, Nauru, Palau, Papoea-Nieuw-Guinea, de Salomonseilanden en Tuvalu. Deze eilanden werken al 20 jaar nauw samen om hun tonijn te beheren en beschermen.
De PNA-landen hebben samen 25% van alle tonijn op de wereld in hun wateren. In 2011 werd de skipjack gevangen in de vrije scholen van de PNA als duurzaam gecertificeerd door de Marine Stewardship Council; daarmee is dit de grootste duurzame tonijn purse seine (ringzegen) visserij. De PNA geelvintonijn, ook gevangen zonder het gebruik van FADS, werd toegevoegd aan het certificaat in februari 2016. De PNA werd in 2016 ook uitgeroepen tot de winnaar van de Seafood Champion Award for Vision op de Global Seafood Summit.
De PNA MSC skipjack en geelvintonijn visserij in deze regio is bijna 90% van alle potentiele MSC skipjack en geelvintonijn vangst in de wereld.
Onze kernwaarden
Duurzaamheid
Pacifical biedt duurzame producten met slechts twee soorten tonijn: MSC gecertificeerde duurzaam gevangen vrije school skipjack en geelvintonijn.
Wat is de Pacifical vangstmethode?
Pacifical vangt tonijn door middel van "ringzegenvisserij", door het uitzetten van netten op vrije zwemscholen van skipjack en geelvintonijn.
Deze grote vissersschepen (ringzegenvaartuigen) omringen scholen van volwassen vissen, trekken een groot net om hen heen, en sluiten het net aan de onderkant, waardoor een soort tas gecreëerd wordt.
Deze tas wordt dan gespannen zodat alle vis dicht bij elkaar wordt gebracht. Daarna wordt de tonijn eruit gehaald en in het vriesruim van de boot geladen, zodat de vis binnen enkele minuten wordt bevroren en het hoogste niveau van kwaliteit wordt behouden.
Wat is de status van de voorraad van skipjack en geelvintonijn in het westelijke centrale Grote Oceaan?
De skipjack en geelvintonijn populaties in de westelijke centrale Grote Oceaan zijn stabiel, niet overbevist, en in een gezonde toestand. Er vindt geen overbevissing plaats en skipjack en geelvintonijn worden niet gezien als bedreigde diersoorten.
Waarom moeten we een duurzame MSC gecertificeerde skipjack kopen als deze regio niet overbevist is?
De behoefte aan MSC-certificering voor skipjack en geelvintonijn heeft in eerste instantie geen betrekking tot de vangst van skipjack, maar is juist gebaseerd op de zorgen over de bijvangst van andere diersoorten die ook gevangen worden wanneer FAD's (visaantrekkende hulpmiddelen) worden gebruikt.
FAD's zijn door de mens gemaakte drijvende voorwerpen die in het mariene ecosysteem worden geplaatst met als doel om een ​​hele ecosysteem te creëren aan zijn onderkant. Dit voorwerp trekt daarom uiteindelijk tonijn aan in grote hoeveelheden, maar ook schildpadden, haaien en veel jonge tonijnen die niet gevangen zouden moeten worden.
De kleine skipjack gevangen op FAD's zijn meestal volwassen als ze ongeveer 1,8 kg tot 2,0 kg zijn, maar de geelvintonijn en grootoogtonijn gevangen in hetzelfde net zijn vaak dezelfde grootte.
Dit is het grote probleem met de het vissen van skipjack met FAD's. De veel grotere geelvintonijn en grootoogtonijn zijn pas volwassen als ze ongeveer 18 kg of meer wegen, dus als ze bij 2,0 kg of minder al gevangen worden zullen ze zich nooit voortplanten. Vaak bestaat de vangst met een FAD voor 20 tot 25% uit deze babytonijn. Dit bedreigt de toekomst van deze 2 grotere tonijnsoorten, maar ook van een aantal soorten haaien.
Wij bieden de oplossing!
De Pacifical MSC gecertificeerde vismethode zet netten alleen uit op vrije zwemscholen van volwassen tonijn. De scholen kunnen niet binnen één (1) nautische mijl zijn van een FAD. Het vissen van vrije school minimaliseert bijvangst.
Pacifical bevordert het uitzetten van netten op vrije zwemscholen van skipjack en geelvintonijn (wat betekent dat ze niet aangetrokken worden door gebruik te maken van een FAD) om bijvangst te voorkomen en voornamelijk volwassen skipjack en geelvintonijn te vangen. Dit is mogelijk omdat scholen hoofdzakelijk bestaan uit tonijnen, van dezelfde soort, met dezelfde grootte en jacht vaardigheden, die allen even snel kunnen zwemmen. Zelden wordt er een babytonijn gevangen, praktisch nooit een jonge grootoog- of geelvintonijn.
Maatschappelijke Verantwoording
Voor het merendeel van de PNA-landen is tonijn de belangrijkste en vaak de enige grote bron van inkomsten. Toch zagen de Pacifical landen tot voor kort slechts een zeer klein deel van deze economische voordelen terug.
Van de huidige 1,1 miljoen ton tonijn in hun wateren is bijna 85% gevangen door vloten van buitenlandse naties, zoals de Verenigde Staten, Japan, Taiwan, Zuid-Korea, de Filippijnen, China en Spanje. Onze binnenlandse vloot bestaat nog vaak uit oudere en kleinere schepen.
We willen zorgen dat meer lokale inwoners gaan werken als bemanning op deze buitenlandse boten, en dat ze worden opgeleid en ervaring opdoen om uiteindelijk hun eigen tonijn boten te varen en runnen.
We willen voor meer banen, werk en inkomen voor ons volk zorgen door het uitbreiden van onze eigen tonijnverwerkingsindustrie en door directe relaties met retailers en eindgebruikers op te bouwen.
PNA tonijnverwerkingsfaciliteiten hebben lokale inwoners in dienst, die werken onder omstandigheden die naar verwachting binnenkort aan de BSCI sociale gedragscode of de SA 8000-norm zullen voldoen. Tonijnconservenfabrieken kunnen werk en inkomen bieden aan duizenden gezinnen.
Visactiviteiten
Pacifical heeft Maatschappelijke Verantwoordingsrichtlijnenvastgesteld voor allen die betrokken zijn bij de MSC gecertificeerde duurzame tonijnvisserij. De nieuwe richtlijnen zijn uniek, omdat het betrekking heeft tot meer dan 300 industriële visserij en transport vaartuigen uit meer dan 10 verschillende landen, die werkzaam zijn in een van 's werelds meest complexe en uitgebreide productieketens op het gebied van zeedieren. De bedoeling van dit initiatief is om het welzijn te waarborgen van de meer dan 5.000 bemanningsleden aan boord van deze schepen, die tonijn vissen en distribueren in de afgelegen wateren van PNA.
Werken aan boord van ringzegenvaartuigen is heel anders dan in andere sectoren. Zelfs op de nieuwste en meest technologisch geavanceerde ringzegenvaartuigen is vissen fysiek zwaar en risicovol werk; reizen duren vaak wel 2 maanden.
De multi-jurisdictionele aard van visserij en het gebruik van een internationale bemanning voegt complexiteit toe aan de toch al moeilijke taak van het zorgen voor maatschappelijk verantwoorde werkstandaarden op zee.
Pacifical heeft daarom deze Maatschappelijke Verantwoordingsrichtlijnen opgesteld om de rechten van deze vissers te beschermen en om te verzekeren dat zij fatsoenlijke, veilige en zinvolle werkomstandigheden hebben aan boord van vissersvaartuigen.
Traceerbaarheid
Traceerbaarheid en transparantie zijn zeer belangrijk voor Pacifical. We kunnen 100% traceerbaarheid van de zee naar het schap bieden aan onze klanten.
Dit is hoe het werkt: een MSC-tripnummer en een MSC getrainde waarnemer worden een vissersvaartuig toegekend door het PNA kantoor. De waarnemer werkt aan boord en update de data meerdere keren per dag via satelliet door middel van een tablet met het PNA computersysteem "FIMS", die gegevens opslaat zoals soort, hoeveelheid, locatie, welk deel vangst en bijvangst en alle andere vangst gerelateerde gegevens. Het FIMS datasysteem is direct gekoppeld aan ons Pacifical IT-platform.
De processor verbindt het productienummer met het MSC-tripnummer waaronder de vis werd gevangen en met slechts het invoeren van de code of het scannen van een QR code, zijn distributeurs en consumenten over de hele wereld in staat om de duurzame methode waarmee de tonijn is gevangen te controleren, waar en wanneer het werd gevangen door welk vaartuig en waar en wanneer het werd verwerkt.
Producten
Bevroren hele ronde Skipjack (gestreepte tonijn)
Bevroren hele ronde Yellowfin (geelvin tonijn)
Bevroren Skipjack & Yellowfin Gilled – Gutted – Head Off
Bevroren Rauwe Skipjack & Yellowfin Loins
Bevroren Rauwe Skipjack & Yellowfin Tonijn Steaks
Ultra Lage temperatuur Bevroren Skipjack and Yellowfin Tonijn
Bevroren Voorgekookte Skipjack & Yellowfin Lenden
Ingeblikte gesterilizeerde Skipjack & Yellowfin Tonijn
In zakken gesterilizeerde Skipjack & Yellowfin Tonijn
In potjes Skipjack & Yellowfin Tonijn
Skipjack & Yellowfin Tuna vismeel
Contact
PACIFICAL cv
Meerpaal 6
4904 SK Oosterhout
Nederland
Email: info@pacifical.com
Telefoon: +31 (0) 162 76 90 27
Fax: +31 (0) 162 43 05 25