What is Pacifical?
Pacifical is a global tuna marketing company jointly set up in 2011 by the 8 PNA countries , located in the Pacific Ocean, to promote PNA and actively trade their MSC certified sustainably caught free school skipjack and yellowfin tuna.
Pacifical MSC certified skipjack and yellowfin tuna from PNA waters is available in 26 different countries around the world and all products using Pacifical fish carry the Pacifical logo as clear representation of the end market's commitment with the PNA region and recognition to those small Pacific island nations managing the tuna stocks in their waters on a daily basis.
The Pacifical logo serves as a geographic indicator bringing recognition to the PNA region, it tells consumers the source and origin of the high quality tuna, which has been caught in the pristine waters of the PNA and the 100% traceable MSC certified product. The logo is also representing the support and contribution of final buyers to the development of the PNA economies and extensive efforts by the PNA people to preserve their tuna resources for the world future generations.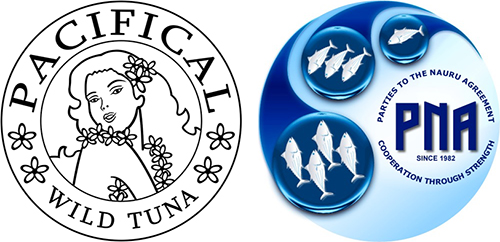 What is PNA?
PNA stands for "Parties to the Nauru Agreement" and it is composed by 8 countries in the Western and Central Pacific: Federated States of Micronesia, Kiribati, Marshall Islands, Nauru, Palau, Papua New Guinea, Solomon Islands, and Tuvalu. These island nations have for the last 20 years been closely cooperating in the management and preservation of their tuna.
The PNA countries together have 25% of the world tuna stocks in their waters. In 2011, the PNA skipjack tuna caught in free swimming schools was certified by the Marine Stewardship Council as sustainable, creating the world's largest sustainable tuna purse seine fishery. PNA yellowfin tuna also caught without the use of FADS was added to the certificate in February 2016. In 2016 the PNA has been named the winner of the Seafood Champion Award for Vision 2016 at the Global Seafood Summit.
Together the PNA MSC skipjack and yellowfin fishery consists out of almost 90% of the potential MSC skipjack and yellowfin tuna catch in the world.
Our Core Values
Sustainability
Pacifical offers sustainable products packed from only two types of tuna: MSC certified sustainably caught free school skipjack and yellowfin tuna.
What is the Pacifical Catching Method?
Pacifical catches its tuna by a method called "purse seining", by setting nets on free swimming schools of skipjack and yellowfin tuna.
These large fishing vessels (purse seiners) encircle schools of adult fish, pull a large net around them, and then close the net at the bottom creating a purse.
This purse is then tightened so that all the fish comes together tightly, after that the tuna is scooped out and loaded into the freezing wells of the boat, freezing the fish within minutes after the catch, preserving the highest level of quality.
What is the Stock Status of Skipjack and Yellowfin Tuna in the Western Central Pacific?
Populations of skipjack and yellowfin tuna in the Western Central Pacific Ocean are stable, not overexploited, and in a healthy state. No overfishing is taking place and skipjack/yellowfin tuna is not listed as a threatened or endangered species.
Why do we need to buy a "Sustainable MSC Certified Skipjack" if the stock is not overfished?
The need for MSC certification for the skipjack and yellowfin fisheries is not firstly related to the catch of any of these two species, but to the worry over the by-catch of non-targeted species which are also caught when nets are set on "Fish Aggregating devices" or FAD's.
FADs are manmade floating objects put in the marine ecosystem to accumulate an entire ecosystem underneath and therefore attracts tuna in large quantities but also turtles, sharks and many juvenile tuna that are not targeted catch.
The small skipjack caught on FADs are mostly mature around 1.8 Kg to 2.0 Kg, but the yellowfin and bigeye caught in the same net are often the same size. This is where the big problem with the FAD fisheries of skipjack is. The much larger yellowfin and bigeye only become mature when they are about 18 Kg or more, so when caught at about 2.0 Kg or less they will never reproduce and lay eggs. Often the amount of these baby tuna's is between 20 and 25% when catching with FADs. This threatens the future of these 2 larger tuna species, and also some several sorts of shark.
We are bringing solutions!
The Pacifical MSC certified fishing method sets nets only on free swimming schools of adult tuna, the schools of tuna cannot be within one (1) nautical mile from any FAD. Fishing on free school minimizes by catch.
Pacifical promotes setting nets on free swimming schools of skipjack and yellowfin tuna (meaning they are not attracted by using a FAD) preventing any by-catch problems, and pre-dominantly catching mature skipjack and yellowfin. This is because schools of tuna predominantly consist of tunas from the same species swimming together, with the same size as hunting skills and behavior and velocity come into play. Very few baby tunas are caught in schools, almost no juvenile big-eye and yellowfin.
Social Accountability
For the majority of our PNA countries tuna is the most important and often the only major source of income. However until recently only a very small part of the economic benefits of tuna flowed back to the Pacifical countries.
Of the current 1,1 million tons of tuna caught in the PNA waters, almost 85% is caught by fleets from foreign nations, such as USA, Japan, Taiwan, South Korea, Philippines, China and Spain, very few come from our PNA region.
We want to see more of our local people to start working as crews on these foreign boats, and for them to be educated and experienced to eventually run and navigate a tuna boat.
We want to create more jobs, work and income for our people, by expanding our own tuna processing industry and to establish direct relations with retailers and end consumers.
PNA Tuna processing facilities employ local population working under conditions expected to be soon meeting the BSCI Social Code of Conduct or the SA 8000 standard. Tuna canning plants can provide work and income to thousands of families.
Fishing Operations
Pacifical has established Social Accountability Guidelines for all vessels involved in its MSC certified sustainable tuna fishery. The new guidelines are unique as it covers over 300 industrial fishing and transport vessels from more than 10 different nations, working in one of world's most complex and extensive seafood supply chains. The aim behind this initiative is to safeguard the welfare of the over 5,000 crew members living on board these vessels, which fish and distribute tuna in the remote waters of PNA Pacific Island Nations.
Working on board purse seine fishing vessels is very different to being employed in other sectors. Even on the newest and most technologically advanced purse seiners, fishing is physically demanding and not exempt of risks, trips often take up to 2 months.
The multi-jurisdictional nature of fishing as well as the use of a commonly mixed nationality crew, adds a layer of complexity to the already difficult task of ensuring socially responsible employment standards are being sustained at sea. Pacifical has therefore developed these Social Accountability Guidelines to protect the rights of fishermen and ensure that they have decent, safe and meaningful employment on board fishing vessels.
Traceability
Traceability and transparency are extremely important for Pacifical. We can provide 100% traceability from sea to shelf to any of our customers.
This is how it works in practice: An MSC trip number and an MSC trained observer would be assigned by the PNA office to a fishing vessel, the observer onboard updates the catching data several times per day via satellite by the use of a tablet which feeds the PNA computer system "FIMS" with data such as species, quantity, location, amount of catch and bycatch and all the other catch related data. The FIMS data system is directly linked to our Pacifical IT platform.
The processor connects the production batch number with the MSC trip number under which the fish was caught and with just entering the code or scanning a QR code, distributors and consumers around the world would be able to verify the sustainable method with which their tuna was caught, where and when it was caught by which vessel and when and where it was processed.
Products
Frozen Whole Round Skipjack – Raw Material
Frozen Whole Round Yellowfin – Raw Material
Frozen Skipjack & Yellowfin Gilled – Gutted – Head off
Frozen Raw Skipjack & Yellowfin Loins
Frozen Raw Skipjack & Yellowfin Tuna Steaks
Ultra Low temperature Frozen Skipjack and Yellowfin Tuna
Frozen Pre-cooked Skipjack & Yellowfin Loins
Canned Skipjack & Yellowfin Tuna
Pouched Skipjack & Yellowfin Tuna
Jarred Skipjack & Yellowfin Tuna
Skipjack & Yellowfin Tuna Fish Meal
Contact
PACIFICAL cv
Meerpaal 6
4904 SK Oosterhout
The Netherlands
Email: info@pacifical.com
Telefoon: +31 (0) 162 76 90 27
Fax: +31 (0) 162 43 05 25