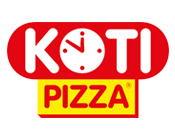 Pacifical welcomes the public announcement of Kotipizza as the 1st pizza chain to offer its customers 100% MSC certified product for its seafood pizzas. The decision of Kotipizza illustrates the company's solid leadership towards tuna sustainability as well as its strong support for the 8 PNA Island nations by choosing Pacifical MSC certified tuna as one of its sustainable sources.
"We extend our congratulations to Kotipizza for its leading and bold step in contributing to tuna conservation, the role that brand owners around the world nowadays play in ensuring future of tuna stocks remain in healthy condition for generations to come is vital. Kotipizza has gone above and beyond to not only make an MSC sustainable tuna product available in the Finnish market, but to engage and inform its customers about why making the right choice is so important. We look forward to continue working together" Said Henk Brus, Managing Director of Pacifical.
In a country with just under 5.5 million inhabitants, Kotipizza's 260 outlets sell over 8 million pizzas a year, with 1.5 million of these containing seafood, accounting for around 150 tons of tuna a year. Kotipizza buys MSC certified skipjack tuna in pouches, which is partly sourced from the PNA fishery.
Tommi Tervanen, CEO of Kotipizza Group explained that the firm is devoted to providing food prepared from responsibly sourced ingredients and that its customers want to know where their food comes from, and how it is produced.
"The blue MSC label is a point of pride for us: it is an independent proof that we only serve our customers the seafood from certified sustainable sources. Our vision is to make the world a better place, one pizza at a time," he says.
Kotipizza is promoting its commitment to MSC certified sustainable seafood through a two-week national multi-channel marketing campaign to create awareness in the marketplace. Click here to learn how proud Kotipizza feels about this step!
Global Commercial Director at MSC, Nicholas Guichoux emphasized that the MSC label provides the best possible assurance that seafood is responsibly caught and that it can be traced back to a sustainable fishery.
"The leadership shown by Kotipizza is a visible commitment to meeting the highest globally recognised standards of seafood sustainability and traceability. Such commitments help to drive improvements in the way our fish stocks are managed and directly support the livelihoods and communities which depend on this vital resource," he says.
He praises Kotipizza on its efforts towards sustainability and says that MSC will support the chain in its continued work to engage consumers. "I very much look forward to tasting their sustainable seafood pizzas next time I'm in Finland!" Guichoux concluded.