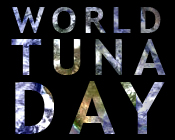 May 2nd has arrived, and this year World Tuna Day celebrations will be the biggest yet, commemorated on a global scale, as major regions, companies and organizations recognize the existence of tuna and the importance of sustainably managing a resource that benefits the livelihoods of many.
First celebrated as a small event in Papua New Guinea in 2011, World Tuna Day was established as a globally-recognized occasion after receiving United Nations ratification last year, to be celebrated annually on May 2nd.
This vote confirmed the world's appreciation for the value of tuna, and this year UN headquarters-hosted celebrations are taking place in New York, where sustainability-centered topics are being discussed as part of a World Tuna Day Conference.
Pacifical, the PNA, and the Pacific Small Island Developing States (PSIDS) are gathering together for the special commemorations, where several speeches will be heard, from Ambassador Peter Thomson, President of the UN General Assembly, Maurice Brownjohn OBE, PNA Commercial Manager, and Henk Brus, Pacifical Managing Director, among other ambassadors and representatives from several countries.
On this day each year the people of the PNA, in the region where the occasion was first established, have marked the importance of tuna to their economy. They spread awareness of the value of this fish, not only to the eight PNA nations, which control the world's largest sustainable skipjack fishery, but also to the globe.
Now inked in the global calendar, firms and organizations worldwide are recognizing the importance of celebrating the valuable contribution of this fish; from the Americas, to Europe, to Asia, and are acknowledging the significance in sustaining the existence of tuna for the generations to come.
In the Pacific region the event is of course being marked in style, with festivities planned throughout the PNA, on and around World Tuna Day. An arts competition and school debates are taking place in PNG specifically, where the country is focusing on the central theme: "Talk Tuna, Fish Tuna, Eat Tuna, Atun-Ability for Manageability and Sustainability."
Become part of the celebrations and let us know what you are doing on World Tuna Day on social media, with #worldtunaday. We'll be sharing photos of the UN World Tuna Day events.