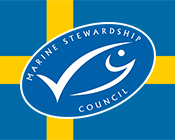 In connection with the launch of the WWF Fiskguiden (Seafood Guide) 2017, WWF Sweden has published a report on tuna stocks, in which they conclude that "just over a 10% of all tuna gets a green light" in the Swedish market.
WWF advises Swedish consumers to look for the MSC logo when buying tuna, in a market where PACIFICAL MSC certified tuna from the PNA nations is available.
The report shows more than 75% of the tuna sold in Sweden has no information on the origin or nature of the species, which means that, with no details available on where and how the fish they're eating was caught, consumers aren't able to correctly determinate which is the best tuna to buy.
"By choosing MSC-certified tuna consumers will ensure they are purchasing tuna that does not deplete our oceans." – WWF Sweden.
On the bright side, WWF also presented the report "Swedish seafood consumption – a growing diversity" which shows tuna consumption among Swedes is growing, with consumers now eating "an average of 11 kilos of fish per year per person".
PACIFICAL MSC certified tuna can be found under the brands Abba and Garant in the Swedish market. Make sure you only purchase sustainable tuna to help preserve this wonderful species for future generations!
You can see the full WWF Seafood Guide 2017 here.