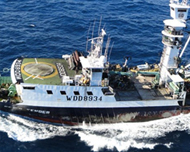 It is with great pleasure and enthusiasm that we announce our cooperation with South Pacific Tuna Corporation (SOPAC) on Pacifical MSC skipjack tuna from the PNA waters. Last week SOPAC, PNAO and Pacifical have endorsed their commitments towards maintaining the highest sustainability standards with the signature of a memorandum of understanding (MOU). We feel extremely privileged to be active participants of the first public commitment to MSC sustainable fishing practices by a U.S. Distant Water Tuna Fleet.
SOPAC's decision to join Pacifical and the PNA nations on this sustainable journey illustrates the growing relevance of implementing sustainable fishing practices certified by the Marine Stewardship Council. "The US Fleet is considered a Global leader in promoting environmental standards with strict adherence to regulations," said South Pacific Tuna Corporation Executive Director and Global Fleets partner J. Douglas Hines. "Hopefully, more members of the Distant Water Tuna Fleet will adopt similar sustainability practices and together work toward a sustainable fish stock and diverse ecosystem."
Maurice Brownjohn, Commercial Manager of PNA fisheries said, "As world leaders in tuna conservation and management, this is a great development. We look forward to working closely with The Global Fleets in promoting tuna that is sustainability harvested in our waters to ensure that we will have continued supply for future generations."
At Pacifical we believe in direct correlation between caring for a sustainable ocean ecosystem and caring for those who manage the resource every day. In the efforts to support and promote the PNA region, all eligible raw material caught by South Pacific Tuna vessels will display the Pacifical logo when it reaches the final customer. We applaud and acknowledge SOPAC's unquestionable step of leadership in PNA tuna sustainability and the social accountability, and highly encourage other fleets to also join us with SOPAC on this sustainable journey.