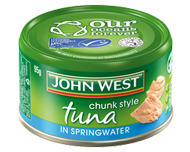 John West Australia has taken home a global sustainability award, a first by an Australian organization.
The firm was recently awarded the Best Engagement Campaign at the Ethical Corporation's Responsible Business Awards in London. The awards recognize the world's leading organizations in Corporate Social Responsibility (CSR), sustainable supply chains and communications.
John West, Australia's most sold canned tuna label, made a brand commitment earlier this year together with WWF and MSC to in an attempt to help end unsustainable fishing methods within the canned tuna industry in Australia, thanks to Pacifical, the marketing arm of the PNA.
95 percent (over 100 million cans) of John West Australia's canned tuna products are MSC certified and carry the Pacifical logo and the Australian market is the world leader when it comes to the accessibility of sustainable canned tuna in supermarkets with 43 percent certified as sustainable.
"We're extremely proud to be the first Australian brand to win this international award, being recognized on a global scale is instrumental in making real change. We've worked closely with our partners over the past 4 years to make this category shift – it's timely momentum as we move into the next phase in leading the industry," said John West Marketer, Stephanie Dore-Smith.