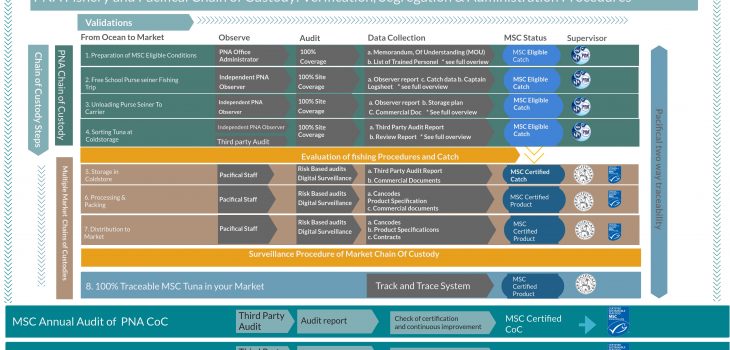 How Our Multilevel CoC Assures You Get MSC Free School Tuna
Assuring that you, as our partners, can always be fully confident that Pacifical co-branded free school tuna is caught in a sustainable way, and fully meets the MSC criteria, going even above and beyond CoC standards, has always been at the forefront of our efforts, since we started in 2010.
PNA and Pacifical probably have one of the most complex supply chain and Chain of Custodies (CoC) in existence, within an area 40% bigger than Europe, where many seiners and reefer carriers transship in many different ports and move catch to several destinations to process. We are very proud of our strict multi-level systems, with many strict filters, checks, balances and controls run by PNA at-sea and Pacifical. In order to make it easier to understand we have now made a comprehensive overview on just one sheet, which tells you exactly how it all works: click here to check it out.
By the way – never forget this: Our Pacifical tuna is only MSC certified after it has successfully passed our many CoC checkpoints. Before that it is just "eligible" for certification, if confirmed as free school up until then!!
Some people mistakenly think we just rely on captain declarations or our independent on-board observers. This is WRONG! To protect observer safety the observer's role is just to observe and record, and in fact PNA has many other controls in place based upon industry and other document trails. This is in addition to the fully confidential observer reports and independent analysis of their data in-port.
PNA is also using positional satellite data of vessel movements to verify if fishing is in the MSC UOA/UOC area, as well as captain log sheets, observer records, commercial documents, photos at all stages, and strictly supervised transshipments, discharge monitoring, grading and sorting prior to cold store entry, which all form part of the PNA CoC. For example you can determine quite accurately by the composition of the catch, size, by-catch species etc., if this was really from a free school set and that MSC eligible can legitimately become MSC certified.
Did you know that presence of a pufferfish for example is absolute grounds to disqualify a batch being claimed as from a free school set? They just can't swim fast enough to be in a school and they need structure in nature to hide.
Pacifical CoC continues from the PNA certifying the MSC certified batch in the cold store through to processing and retail. Each batch and can is traceable, and is also audited.
As you know traceability and full transparency are a key part of the service we provide at Pacifical; that's why all our PNA MSC certified tuna carryies the prestigious MSC and Pacifical logos and can be traced back online from shelf to sea. This provides not only a platform to promote the sustainability of the product, but also the health aspects from tuna and the pristine PNA ecosystem it comes from in the Pacific. This remains unrivalled in the trade.
PNA FAD Measures Contribute To Positive Bigeye Tuna Stock Status
Back in 2007 scientists identified the overfished state of the WCPO bigeye stock as an immediate concern. Large bigeye are targeted by longliners, and juveniles are bycatch in purse seine fishing with FADs .
Great news!!! Since 2007 PNA-introduced conservation measures have contributed to the positive indications that bigeye stocks are on the way to recovery. This is what a recent scientific report by the WCPFC shows!
The MSC certification for the PNA skipjack and yellowfin tuna fishery has been a big part of this effort, by encouraging fishing captains to catch more and higher value free schools and have them be less dependent on FADs (Fish Aggregating Devices). In the PNA free school fishery you find less than 1% bigeye tuna and other bycatch, but on FAD sets the bigeye catch is almost tenfold. For this reason PNA has led to the fight to limit excessive and uncontrolled use of FADs and bring a balance of management into the FAD sector.
PNA has successfully increased free school fishing and reduced FAD use through high seas pocket closures, in-zone seasonal FAD bans, tuna catch retention for purse seiners, a comprehensive FAD monitoring and tracking system, near real time e-reporting, an e-Catch Documentation Scheme (e-CDS), and other management tools and measures.
Some people say: CATCH ONLY FREE SCHOOLS! As great as it sounds, it is not realistic and would not even be sustainable. Biologists tell us there needs to be a balance. Today's reality is that FAD fishing is unlikely to go away anytime soon as a gear-type used by purse seiners. In fact natural logs are FADs and have always existed in the fishery. What is required is continued sustainable management and a balance.
This is why last week the CEO of the PNA Mr. Ludwig Kumoru reacted on the positive news on bigeye with this statement: "This is a good start and PNA looks forward to evidence of continued improvements, especially in the bigeye stock status in the next stock assessment in 2020. PNA will continue to work towards seeing the entire PNA ocean ecosystem including a sustainable managed FAD fishery, being fully MSC certified within the coming 5 years,".
If you would like to read the full scientific report you can find it here.