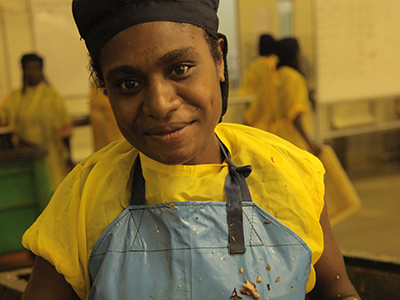 Yesterday, on Tuesday, October 16th, SeafoodSource.com published an article titled "Rift between Papua New Guinea and Pacifical threatens the future of regional tuna MSC certification" mirroring the views of Papua New Guinea's FIA, in reproach of Pacifical.
According to Pacifical, prior to the release of this "Top Story", Seafood Source did not reach out to any member of the Pacifical team. As a matter of clarification, the organization sent out a mailing to its partners, finding it important to explain their side of the story.
Below you will find the full text of the Pacifical mailing:
We as Pacifical welcome the initiative by the Fishing Industry Association of Papua New Guinea (FIA) of aiming to obtain MSC certification for drifting and anchored FADs, and Free School fisheries within PNG's archipelagic waters and its Exclusive Economic Zone (EEZ). However we would like those buyers, who are either interested in or already sourcing MSC tuna from the PNA waters (holding 50pct of the world's skipjack stocks in its EEZ) to understand the situation correctly.
Let us clarify first of all that there is no threat of "a split between Papua New Guinea and the other eight island-nations in the Parties to the Nauru Agreement", as the article mentions. PNG EEZ will continue to be part of the PNA MSC certification. FIA speaks for the tuna companies, not for the PNG Government.
Considering that PNG waters generate an annual catch of about 400,000 M/T, compared to well over 1.2 million M/T in PNA waters (incl. PNG), and with the MSC certification of PNA covering potentially about 800,000 M/T of eligible catch of free school skipjack and yellowfin tuna, the future initiative of FIA is not considered to be any threat to Pacifical and the PNA. A possible MSC certification granted to FIA members operating within PNG Archipelagic waters, could only complement PNA's certification. Although very little PNG flagged fleet catch has been landed and processed in PNG in recent years (about 20%).
It should however be noted that over 220 of the 245 vessels fishing in all PNA waters are signed up to work with Pacifical, this basically includes all vessels operating within the PNG EEZ. In recent years up to 40% of all MSC certified catch has been from PNG flagged vessels working in the entire PNA region, typically outside PNG waters. (Below our Pacifical MSC catches by Flag state).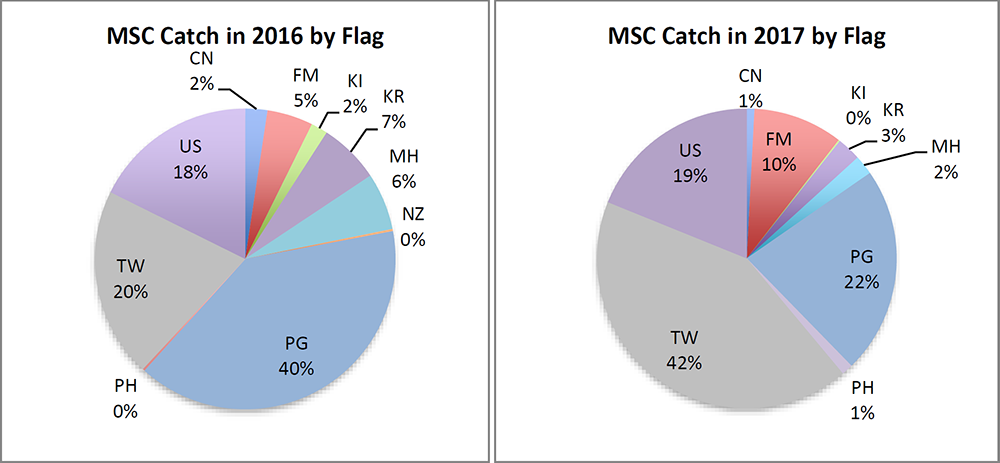 It is also important to mention that two of the FIA members and PNG's biggest tuna exporters– RD Tuna Corp (the country's largest tuna fishing and processing operator) and South Seas Tuna Corporation (majority owned by FCF – world's largest tuna trader) are both working very successfully with Pacifical and significantly boosting their MSC catches and exports.
Just like Pacifical, these two companies fully embrace the initiative of FIA of pursuing the gold standard of sustainability within PNG waters and would like to see that their association reach MSC certification. This will mean PNG FAD fisheries have then achieved a sustainable level.
Certainly if this fishery was to receive MSC status, it will be a major win from an environmental point of view. Until now no major tuna purse seiner fisheries on drifting and anchored FADs has managed to obtain MSC certification, and we consider it to be a major challenge for FIA and its members. It is however not likely to happen within the next 2 years considering the complexity and rigor of the MSC process, and a solid chain of custody will need to be applied.
As several FIA members and PNG processors show, Pacifical provides excellent market access to those companies that are interested in delivering truly sustainable and traceable MSC catch. These companies have in 2018 significantly increased production and are also receiving a premium from the market for their MSC free school tuna.
Other PNG fishing and processing companies and FIA members, have chosen to concentrate mostly on FAD catch or self-certified FAD-free, obviously they prefer not supply any MSC tuna until today, although continually encouraged by Pacifical and PNA. They would rather wait for the certification of their FAD fisheries in the further future or the development of a FIP in case the initiative does not meet the standard.
We think it is important to explain that only 2pct of the total premium, which marks the difference between Pacifical MSC and self–certified FAD free, goes to Pacifical and PNA nations, supporting the conservation work as well as MSC certificate maintenance. The remaining price difference is charged by the industry, serving as a stimulus for their sustainable efforts. FIA remains silent on this industry take, which can be as much as 15%, but only refers to government returns.
Of this 2pct Pacifical J/V partners PNA and Sustunable run the world's largest and most extensive chain of custody, which has been praised by many environmental organizations, and runs a worldwide organization to develop, market and promote sustainable caught wild tuna from the PNA. For this service fee we also offer retailers and brand owners a variety of online traceability solutions, recently even via blockchain.
We understand from FIA's Executive Officer that once it has achieved MSC certification in the coming years, it will charge a fee to all of its members and parties that participate under its scheme. However, we do not know what services they intend to provide in return and to whom.
Disclosure: Henk Brus, CEO of Pacifical, is a shareholder in Atuna.com.