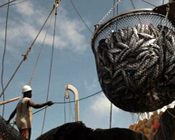 It is with great pride and enthusiasm that we announce today the official Marine Stewardship Council (MSC) recertification for our PNA free-school skipjack & yellowfin tuna fishery. Consumers worldwide will continue to enjoy and have access to sustainable and fully traceable MSC Pacifical Tuna caught in the waters of our Pacific Islands Nations.
The renewed MSC certificate can be downloaded here.
After a long and in-depth analysis of all 24 objections presented by the IPNLF against our sustainable fishery were completely dismissed by an independent adjudicator, the publication of this new 5-year MSC certificate confirms that the PNA free-school fishery meets the robust criteria of the MSC, the golden standard in fisheries' sustainability.
On top of that, we have more good news to share with you, because free-school tuna caught in the Exclusive Economic Zone (EEZ) of Tokelau is now eligible for MSC certification under the PNA new MSC certificate. With this inclusion, the total area covered by our PNA MSC certified fishery now further expands to almost 15 million km2 of pristine tuna-rich waters!
The MSC certification granted to the PNA skipjack and yellowfin tuna fishery endorses PACIFICAL products worldwide as one of the most sustainable tuna choices, and reassures our PNA people that the arduous and consistent work being put into managing the world's biggest tuna fishery in a sustainable way, is being valued and recognized.
Thanks again for all your support throughout the whole process. It certainly kept us robust and vigorous to continue focused on our mission and never lose sight of what is most important to us, our ocean ecosystem, our tuna and the people who depend on it.
Tokelau's EEZ Officially Eligible for MSC Pacifical Catch
Tokelau is the world's 5th smallest economy, with a tiny landmass of only 12 km2 and a population of under 1,500 inhabitants. It has a massive EEZ covering an area of about 318,990 km2, which is about the same size as Italy. Tokelau has no capital, port or airport, making it one of the most remote and inaccessible places in the world. It is also a highly traditional society, where the prime minister annually rotates between the 3 islands that make up this territory.
"We welcome the tiny territory of Tokelau, whose Exclusive Economic Zone has been used to enhance the MSC unit of certification. This is massive for this tiny economy which is almost exclusively reliant on tuna revenues for income." – Said PNA CEO Ludwig Kumoru.
As you know, PNA and PACIFICAL are 100% committed to the people of the Pacific, and our common goal is to sustainably manage and help preserve their tuna resources for generations to come. This big move will ensure Tokelau islanders get a fair revenue from their main source of income, allowing us and our partners to support their livelihoods and the island's development.
Tokelau has been a cooperative member of the PNA since 2012. Estimated tuna catches in their zone amounted to 72,330 MT of skipjack and 106,041 MT of yellowfin in 2015.
We look forward to start catching sustainable MSC-certified Pacifical tuna in Tokelau waters and continue making sustainable PNA MSC certified tuna available worldwide; ensuring there is tuna for many years to come.