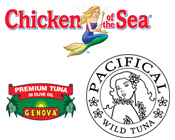 US shelf-stable seafood market leader, Chicken of the Sea (COS), has signed a Memorandum of Understanding (MOU) with Pacifical, to promote MSC (Marine Stewardship Council) certified tuna sourced from the eight-member nations of the Parties to the Nauru Agreement (PNA) in the Western Central Pacific Ocean.
Chicken of the Sea has introduced Pacifical MSC certified tuna with their brand Genova, one of the fastest growing tuna brands available in the US market. Genova is known for its premium high quality solid yellowfin tuna filets, packed in pure olive oil with no additives or preservatives, 100% wild caught tuna inspired by Italian-style fillets. Now also certified as sustainable by the MSC, caught from a fishery with one of the most rigorous and robust chain of custody certifications offered globally.
The Genova MSC certified product has just been made available nationwide in Walmart, Kroger, Albertson, Costco and many other retailers across the United States.
"Our sustainability strategy includes a commitment to procure tuna from MSC-certified fisheries," said Roxanne Nanninga, Director of Sustainability for Thai Union, North America. "Our cooperation with Pacifical to source MSC tuna for our Genova brand is evidence of that commitment in action."
"The sustainable management of the PNA waters is vital for the future of tuna species worldwide since 25% of the world's tuna catch comes from our Exclusive Economic Zones", said Henk Brus, Managing Director, Pacifical. "The partnership with Chicken of the Sea in the US market will be of great contribution to the further continuation of our sustainable effort in North America. With this cooperation, COS has taken an important step towards a long-term commitment to the sustainability of tuna. We all bear the responsibility of ensuring tuna stocks remain healthy for generations to come and we are excited to have Chicken of the Sea joining us on this mission."
The MSC certified Genova yellowfin product now carries the Pacifical logo on its lid, in representation of COS' direct commitment to the PNA island people. By choosing Pacifical tuna, partners and final consumers around the world are supporting the sustainability of this vast ecosystem, and the people who depend on it, bringing in business and employment opportunities, as well as livelihood.
"We congratulate Chicken of the Sea for this exceptional step forward and their contribution towards sustainability through the involvement of the Genova brand. We look forward to continue working hand in hand with Chicken of the Sea to deliver US consumers sustainable, high quality, transparent and nutritious yellowfin straight from paradise." Said Maurice Brownjohn, Commercial Director, PNA Office.
"When people purchase seafood with the MSC ecolabel, their choice supports fishermen around the world who are working hard to meet the world's most rigorous standard for sustainability," says Brian Perkins, MSC Regional Director of the Americas.
"We congratulate Pacifical and Chicken of the Sea on this partnership that will bring certified sustainable and traceable tuna to millions of American families when they buy the Genova brand with the blue MSC label."