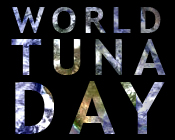 Next year may 2nd will be the first time that we can celebrate together World Tuna Day. So please get your agenda now and mark it !
A great opportunity to attract extra attention from your customers, members, colleagues and family members to this great fish which provides such delicious, healthy and nutritious food to so many people around the world. A fantastic fish that needs us to urgently start fishing and buying tuna in a sustainable way – so our kids and future generations can continue to enjoy it !
Last month the initiative for declaring World Tuna Day was taken by the ministers of the 8 Pacifical PNA island nations. They jointly committed to start celebrating each year on May 2nd in their countries and invite the world to join in bringing to the world's attention this species which plays such a crucial role in our islands economies and our future. Tuna is for most PNA nations not only one of their most important sources of national income, employment and food security but it also plays a delicate role in the balance of the pristine and vulnerable ocean eco-system that surrounds our Pacific islands.
So let's of all us who benefit from the magnificent wild tuna: tuna fishermen, processors, traders, retailers, tuna brands, distributors, NGO's, governments, and consumers celebrate its existence on May 2nd. Pacifical will send you a reminder around that time!