Mikä Pacifical on?
Pacifical on maailmanlaajuinen tonnikalan markkinointiyritys, jonka perustivat kahdeksan Tyynenmeren saarivaltiota (PNA-maat) yhdessä vuonna 2011. Se sijaitsee Tyynellämerellä, ja sen tehtävänä on markkinoida PNA-maita ja käydä aktiivisesti kauppaa MSC-sertifioidulla, kestävästi pyydetyllä ja vapaasti uivalla boniitilla (skipjack) sekä keltaevätonnikalalla.
Pacificalin MSC-sertifioitua boniittia ja keltaevätonnikalaa Tyynenmeren saarivaltioiden vesiltä on saatavissa 26 maassa eri puolilla maailmaa. Kaikki Pacificalin kalasta valmistetut tuotteet on merkitty Pacifical-logolla. Logo on selkeä merkki sitoumuksesta loppumarkkinoiden ja Tyynenmeren saarivaltioiden alueen välillä, sekä tunnustus noille pienille Tyynenmeren saarivaltioille, jotka hallinnoivat päivittäin vesiensä tonnikalakantaa.
Pacifical-logo toimii maantieteellisenä indikaattorina, joka tunnustuksena PNA-alueelle. Se kertoo kuluttajille puhtailta PNA-vesiltä kalastetun laadukkaan tonnikalan alkuperästä ja 100 % jäljitettävästä, MSC-sertifioidusta tuotteesta. Logo edustaa myös lopullisten ostajien tukea ja osallistumista PNA-talouksien kehitykseen ja laajoihin ponnisteluihin, joita Tyynenmeren saarivaltioiden asukkaat tekevät suojellakseen tonnikalavarantojaan tuleville sukupolville.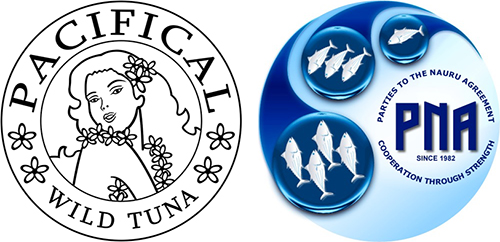 Mitä PNA tarkoittaa?
PNA tulee sanoista "Parties to the Nauru Agreement" eli Naurun sopimuksen osapuolet. Se koostuu kahdeksasta läntisen ja keskisen Tyynenmeren maasta: Mikronesian liittovaltio, Kiribati, Marshallinsaaret, Nauru, Palau, Papua-Uusi-Guinea, Salomonsaaret ja Tuvalu. Nämä saarivaltiot ovat tehneet läheistä yhteistyöstä viimeisten 20 vuoden aikana tonnikalakantansa hallinnassa ja suojelussa.
PNA-maiden vesillä on yhteensä 25 % maailman tonnikalakannasta. Vuonna 2011 PNA-vesiltä vapaasti uivista parvista pyydetty boniitti sai Marine Stewardship Councilin kestävän kehityksen sertifioinnin, mikä teki siitä maailman suurimman kestävän kurenuotalla kalastettavan tonnikalakannan. PNA-alueen keltaevätonnikala, jota kalastetaan ilman kalaparvien yhteenkokoamiseen tarkoitettujen laitteiden käyttöä, lisättiin sertifikaattiin helmikuussa 2016. Vuonna 2016 PNA nimettiin Seafood Champion Vision for 2016 -palkinnon voittajaksi Global Seafood Summitissa.
PNA-alueen MSC-sertifioidun boniitin ja keltaevätonnikalan kalastus muodostaa yhteensä lähes 90 % maailman mahdollisesta MSC-sertifioidusta boniitti- ja keltaevätonnikalasaaliista.
Ydinarvomme
Kestävyys
Pacifical tarjoaa kestäviä tuotteita, jotka sisältävät vain kahta tonnikalalajia: MSC-sertifioitua kestävästi kalastettua vapaasti uivaa boniittia ja keltaevätonnikalaa.
Mitä pyyntimenetelmää Pacifical käyttää?
Pacifical kalastaa tonnikalaa menetelmällä, jota kutsutaan "kurenuottakalastukseksi". Siinä verkot asetetaan vapaasti uivien boniitti- ja keltaevätonnikalaparvien ympärille.
Suuret kalastusalukset (kurenuotta-alukset) ympäröivät aikuisten kalojen parvet, levittävät verkon kalojen ympärille ja sulkevat verkon alapuolelta muodostaen pussin.
Tämä pussi kiristetään, ja kalat tuodaan yhteen tiukaksi joukoksi, joka sitten kauhaistaan ylös ja säilötään aluksen jäädytysaltaisiin, joissa kalat jäätyvät minuuteissa pyynnin jälkeen. Näin laatu pysyy parhaimpana.
Mikä on boniitin ja keltaevätonnikalan kantojen tila läntisellä ja keskisellä Tyynellämerellä?
Boniitti- ja keltaevätonnikalapopulaatiot läntisellä ja keskisellä Tyynellämerellä ovat vakaat, niitä ei ole ylihyödynnetty, ja ne ovat terveessä kunnossa. Liikakalastusta ei tapahdu, eikä boniitti/keltaevätonnikala ole uhanalaisten lajien joukossa.
Miksi meidän pitää ostaa "Kestävää MSC-sertifioitua boniittia", jos kantaa ei kalasteta liiallisesti?
MSC-sertifioinnin tarve boniitille ja keltaevätonnikalalle ei ensikädessä liity kummankaan lajin kalastukseen, vaan huoleen sellaisten lajien sivusaaliista, joita ei haluta saada saaliiksi kalastettaessa verkoilla, jotka levitetään kalaparvien yhteenkokoamiseen tarkoitetuilla laitteilla (Fish Aggregating devices, FAD).
FAD-laitteet ovat ihmisten tekemiä kelluvia esineitä, jotka laitetaan meriekosysteemiin keräämään koko pinnanalainen ekosysteemi ja siten sillä saadaan suuria määriä tonnikalaa, mutta myös kilpikonnia, haita ja nuorta tonnikalaa, jotka eivät ole kalastuksen kohteina.
Kalaparvien yhteenkokoamiseen tarkoitetuilla laitteilla saadaan pientä boniittia, joka on yleensä aikuista ja painaa noin 1,8−2,0 kg, mutta samaan verkkoon jää saaliiksi tavallisesti myös samankokoista keltaevä- ja isosilmätonnikalaa. Tämä on FAD-laitteilla pyydetyn boniitin iso ongelma. Paljon suuremmat keltaevä- ja isosilmätonnikalat ovat täysikokoisia vasta, kun ne painavat noin 18 kg tai enemmän, joten jos ne saalistetaan 2 kg:n kokoisena, ne eivät koskaan lisäänny tai laske munia. Usein tämän nuoren tonnikalan määrä on 20−25 % saaliista FAD-laitteilla kalastaessa. Tämä vaarantaa kahden suuremman tonnikalalajin sekä useamman hailajin tulevaisuuden.
Me tarjoamme ratkaisuja!
Pacificalin MSC-sertifioitu kalastusmenetelmä levittää verkkoja vain vapaasti uivien aikuisten tonnikalaparvien ympärille. Tonnikalaparvet eivät saa olla yhden (1) meripeninkulman sisällä mistään kalaparvien yhteenkokoamiseen tarkoitetusta laitteesta. Vapaasti uivien parvien kalastus minimoi sivusaaliit.
Pacifical kannattaa verkkojen levitystä vapaasti uivien boniitti- ja keltaevätonnikalaparvien ympärille (tarkoittaen, että niitä ei saalisteta FAD-laitteilla), jolloin estetään sivusaalisongelmia ja kalastetaan pääasiallisesti täysikasvuisia boniitteja ja keltaevätonnikaloja. Tonnikalaparvet koostuvat pääasiallisesti samasta yhdessä uivasta kalalajista. Parven kalat ovat samankokoisia, koska saalistustaidoilla, käyttäytymisellä ja nopeudella on merkitystä. Nuoria tonnikaloja kalastetaan parvista hyvin vähän, ja keskenkasvuisten isosilmä- ja keltaevätonnikalojen saalis on lähes olematon.
Yhteiskuntavastuullisuus
Suurimmalle osalle PNA-maista tonnikala on tärkein ja usein ainoa merkittävä tulonlähde. Viime aikoihin asti kuitenkin vain pieni osa tonnikalan taloushyödyistä on virrannut takaisin Pacifical-maihin.
Niistä 1,1 miljoonasta tonnista tonnikalaa, jotka tällä hetkellä kalastetaan PNA-vesillä, lähes 85 % pyydetään vierasmaalaisilla aluksilla esimerkiksi Yhdysvalloista, Japanista, Taiwanista, Etelä-Koreasta, Filippiineiltä, Kiinasta ja Espanjasta. Vain harvat ovat kotoisin PNA-alueeltamme.
Haluamme nähdä enemmän paikallisia ihmisiä työskentelemässä näiden vierasmaalaisten alusten miehistöissä. Haluamme, että he saavat koulutusta ja kokemusta, jotta he voisivat mahdollisesti johtaa ja kalastaa omalla tonnikala-aluksella.
Haluamme luoda enemmän työpaikkoja, työtä ja tuloa kansoillemme laajentamalla omaa tonnikalan jalostusteollisuutta ja perustamalla suoria yhteistyösuhteita myyjiin ja loppukuluttajiin.
PNA:n tonnikalan jalostuslaitokset työllistävät paikallista väestöä olosuhteissa, joiden odotetaan pian täyttävän BSCI:n sosiaalisten käytännesääntöjen tai SA 8000 -standardin vaatimukset. Tonnikalan pakkauslaitokset voivat tarjota työtä ja tuloa tuhansille perheille.
Kalastustoiminta
Pacifical on laatinut Yhteiskuntavastuullisuuden ohjeet aluksille, jotka ovat mukana sen MSC-sertifioidussa, kestävässä tonnikalan kalastuksessa. Uudet ohjeet ovat ainutlaatuiset, koska ne koskevat yli 300 teollista kalastus- ja kuljetusalusta useammasta kuin kymmenestä eri valtiosta työskentelemässä yhdessä maailman monimutkaisimmista ja laajimmista merenelävien tuotantoketjuista. Tarkoitus tämän aloitteen takana on turvata yli 5 000 miehistön jäsenen hyvinvointi näillä aluksilla, jotka kalastavat ja jakelevat tonnikalaa PNA:n Tyynenmeren saarivaltioiden kaukaisilla vesillä.
Kurenuotta-aluksilla työskentely eroaa suuresti työnteosta muilla sektoreilla. Myös uusimmilla ja teknologisesti edistyksellisimmillä kurenuotta-aluksilla kalastus on fyysisesti haastavaa ja sisältää riskejä. Lisäksi matkat kestävät usein jopa kaksi kuukautta.
Kalastuksen monen lainkäyttöalueen rajat ylittävä luonne sekä monikansallisten miehistöjen yleinen käyttö hankaloittavat jo muutenkin vaikeaa tehtävää turvata sosiaalisesti vastuullisten työllistämisstandardien ylläpitäminen merellä. Pacifical on siksi kehittänyt nämä yhteiskuntavastuullisuuden ohjeet kalastajien oikeuksien turvaksi ja varmistamaan, että heillä on asianmukaiset, turvalliset ja merkitykselliset työpaikat kalastusaluksilla.
Jäljitettävyys
Jäljitettävyys ja läpinäkyvyys ovat äärimmäisen tärkeitä Pacificalille. Voimme tarjota kaikille asiakkaillemme 100 % jäljitettävyyden mereltä hyllylle.
Käytännössä se toimii näin: PNA-toimistosta määrätään kalastusalukselle MSC-matkanumero ja MSC-koulutettu tarkkailija, ja aluksella mukana oleva tarkkailija päivittää saalistiedot useita kertoja päivässä satelliitin kautta tabletilla, joka syöttää PNA:n "FIMS"-tietokonejärjestelmään tietoja kuten laji, määrä, sijainti, saaliin määrä ja sivusaaliin määrä sekä kaikki muut pyyntiin liittyvät tiedot. FIMS-tietojärjestelmä on yhdistetty suoraan Pacificalin IT-alustaan.
Käsittelijä liittää tuotantoerän numeron MSC-matkanumeroon, jolla kala pyydystettiin, ja vain syöttämällä koodin tai skannaamalla QR-koodin jälleenmyyjät ja kuluttajat kaikkialta maailmasta pystyvät tarkistamaan tonnikalan kalastuksen kestävän menetelmän sekä sen, milloin ja missä tonnikala käsiteltiin.
Tuotteet
Pakastettu kokonainen pyöreä boniitti – raaka-aine
Pakastettu kokonainen pyöreä keltaevätonnikala – raaka-aine
Pakastettu boniitti ja keltaevätonnikala kidukset poistettu – suolistettu – pää poistettu
Pakastettu raaka boniitti- ja keltaevätonnikalafilee
Pakastettu raaka boniitti- ja keltaevätonnikalapihvi
Ultra-alhaisessa lämpötilassa pakastettu boniitti ja keltaevätonnikala
Pakastettu ja esikypsennetty boniitti- ja keltaevätonnikalafilee
Boniitti ja keltaevätonnikala tölkissä
Boniitti ja keltaevätonnikala pussissa
Boniitti ja keltaevätonnikala purkissa
Boniitti- ja keltaevätonnikala-ateria
Yhteystiedot
PACIFICAL cv
Meerpaal 6
4904 SK Oosterhout
The Netherlands
Email: info@pacifical.com
Telefoon: +31 (0) 162 76 90 27
Fax: +31 (0) 162 43 05 25