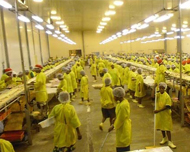 We are excited to announce FCF's first landings of MSC certified skipjack in the PNA region; MSC certified tuna caught in PNA waters, processed by the PNA people.
This first lot of MSC certified skipjack landed in Wewak by FCF weighs a total of 290 metric tons and will be processed at South Seas Tuna Corporation (SSTC), a subsidiary of FCF in Papua New Guinea. The eligible MSC fish was caught in the waters of the Marshall Islands under the strict standards of the PNA MSC certification scheme.
We are pleased to count on the support of social and economic development that FCF places on the PNA Nations. All canned products processed from FCF's eligible raw material will display the Pacifical logo in representation of FCF's commitment towards the PNA people, the appreciation for managing and preserving their ocean ecosystem for years to come, while highlighting the origin of the PNA MSC-certified tuna.
FCF CEO, WH Lee says that the firm has been "a fisheries leader in the PNA region for more than 30 years. This investment advances our production and sustainable operations capabilities while adding up to 700 additional labor jobs in Wewak.
"SSTC plans to invest USD 3.5 million in capital expenditures to increase its production capacity to 160 metric tons per day."
SSTC is enthusiastic to start processing sustainable fish at the PNG headquarters. They recognize that this environmental approach and strategic partnerships with local leaders will not only be a boost the Wewak economy, but also help to ensure a sustainable and plentiful fishery for Pacific island nations for generations to come.
We look forward to continue having more landings of Pacifical MSC certified skipjack in the PNA region and carry on this sustainable and social driven partnership for the development of the region and its people. We'll keep you posted on the development!