PACIFICAL
Pacifical c.v. is a global tuna market development company jointly set up by the 8 PNA countries in 2011 to promote the catch, production, distribution and trade of the MSC certified sustainably caught free school skipjack and yellowfin tuna within their waters, which is also processed in a socially responsible and fair way in the region, to tuna consumers around the world. Our countries together have 25% of the world tuna stocks in their waters. Our free school skipjack and yellowfin purse seine fishery was certified on the 13th of December 2011. Please view MSC Certificate here.
The 8 PNA (which stands for Parties to the Nauru Agreement) countries are Federated States of Micronesia, Kiribati, Marshall Islands, Nauru, Palau, Papua New Guinea, Solomon Islands, and Tuvalu. For more information go to www.pnatuna.com
The initiative to start Pacifical c.v. was taken by the leaders of the 8 PNA countries, because they want to see
Sustainable fishing of tuna within our PNA waters

Employment and other participation opportunities for our people

Fair share of the economic return on our main natural resource tuna

A closer cooperation with the business and private sector

Build closer relations with the retailers and consumers in the end markets
In order to strengthen its marketing power and expertise PNA chose to joint venture in PACIFICAL c.v with the Netherlands based company Sustunable bv, a company which has been a pioneer in trading responsibly caught tuna since 2007, also by providing full on-line traceability for their tuna products to retailers and it gives consumers a window into the Pacific. For more information go to www.sustunable.com
Pacifical c.v is a 50/50 joint venture between the PNA and Sustunable bv. The legal set-up of the joint venture is explained here.
To provide the best possible communication with buyers, and to be geographically close to our customers in the target markets, the marketing office of Pacifical is based in the Netherlands.
Pacifical aims to market its tuna at prices that are affordable to the average consumer, without positioning "sustainable caught and produced tuna" as highly priced premium niche products only within the reach of those with larger budgets.
Pacifical doesn't own or operate its own factories or tuna fishing vessels, but we cooperate closely with existing and new supply chain partners within the Pacifical countries, to assure that consumers around the world are able to consume a sustainably caught tuna product year around. Tuna products which also meet the highest standards in terms of quality, reliability in delivery, social accountability, and food safety, and is fully on-line traceable from throat to boat.
To ensure that Pacifical products meet the highest standards in terms of quality and taste, but also sustainability and social accountability, Pacifical is involved in all elements which are related to the development, catching, processing, distribution and marketing of the product.
Did You Know?
Almost 35% of the world's tuna catch comes from the PNA region.
Our MSC-eligible skipjack and yellowfin catch represents over 15% of the world tuna catch.
The total catch in PNA waters represents over 55% of the total Western Pacific Ocean tuna landings.
PNA MSC-eligible catch surpassed the total recorded catch in the Eastern Pacific Ocean by over 20%.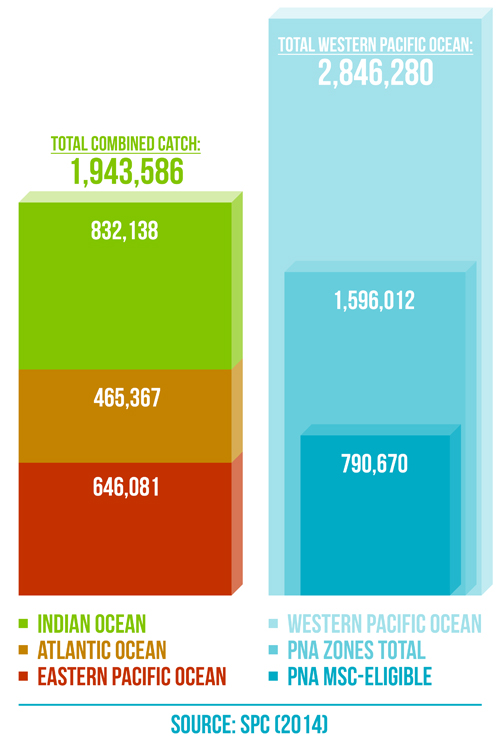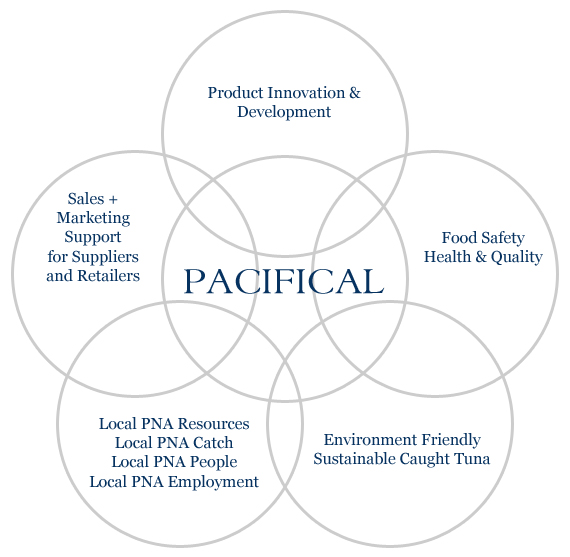 Pacifical employs itself specialists in each of these fields or works closely together with companies who specialize in these areas.





.

Privacy policy
Your information will be held in strict confidence. We do not sell or share your information with anyone else.
PNA - Parties to the Nauru Agreement
The Nauru Agreement is a subregional agreement on terms and conditions for tuna purse seine fishing licenses in the region. The Parties to the Nauru Agreement are...
Australia Leading The World In Sustainably Caught Tinned Tuna
Can You Imagine A World Without Tuna?


Watch this video by our partner John West Australia